Google Nexus 4 is now in stock with T-Mobile, $200 on contract
9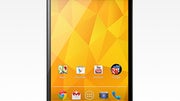 While a fresh new batch of
Google Nexus 4
units is
expected to land on the Play store by the end of this week
, the smartphone is already back in stock at the T-Mobile online store. The nation's fourth largest carrier is offering the handset for $200 on contract, along with a qualifying service plan, or $500 outright, in case you aren't eligible for an upgrade yet. The variant that T-Mobile is offering has 16GB for all your storage needs.
Of course, some folks won't be that tempted by this deal, especially since Google is selling the 16GB Nexus 4 for $350 unlocked and without the need for a contract. But on the other hand, the smartphone has yet to be made available for purchase once again, and when that happens, you just don't know how long it's going to be before all stock is out. To make its offer a bit easier to swallow, T-Mobile is waiving its SIM activation fee, which saves you $35.
So yeah, a $200 on-contract Google Nexus 4 ordered today, or a $350 one purchased later, if you're lucky – that's the big question of the day. Which option would you pick? Let us know down in the comments!