New renders give us our best look of the Google Home Hub smart display to date
5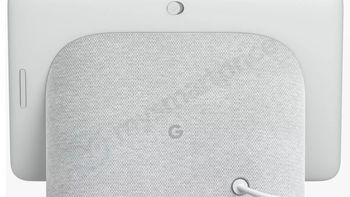 Some new renders of the device surfaced today, showing us what the product will look like in Charcoal. A previously leaked render showed the back of the Home Hub in Chalk (see the image at the top of the article). Note that even though the back of the Smart Display is the darker charcoal-like color, it appears that the screen in front will be white regardless of which color option is chosen.
One of the renders discovered today shows Google's smart display from the side, revealing that the screen is tilted. From the looks of things, it would appear that there is no way to adjust the angle of the slant. The Home Hub is rumored to feature a 7-inch LCD display, but one disappointing omission appears to be a front-facing camera. That dovetails with talk that Google will not have the Duo video chat app available for the Home Hub.
We could see the Google Home Hub priced to undercut the competition. Lenovo's Smart Displays, for example, are available for $200 (8-inch screen) and $250 (10-inch screen). Both offer a front-facing camera and Duo for video chats. With that in mind, a smaller screened Home Hub without video chat capabilities could end up costing less than $200.
Check out the latest renders of the Google Home Hub by clicking on the slideshow below.