Google Glass now comes out of the box with 2GB of RAM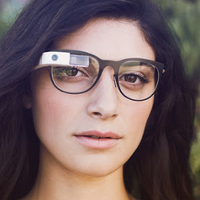 A Google+ post from the Google Glass account, highlighted some of the changes made to the connected specs over the last year. Forgetting for a moment that the wearable will now come with 2GB of RAM, double the amount that Glass had shipped with, there have been other improvements made as a result of feedback from Glass users.
For example, battery life on Google Glass has been extended by 20% over the last 12 months. Voice search is now 10% faster, and Glass now comes with
support for prescription lens and frames
.
You can now frame your pictures on Glass easier by saying "
Ok glass, show the viewfinder.
" You will see four "L's," with one in each corner (see the picture below) so that you can frame the shot. To snap the photo, say "
Ok glass, take a picture
," wink, or press the camera button. And two new Google Now cards are available for Glass.
One reminds you where you have parked your car
, while the other tells you when you have a package coming.
With Google I/O 2014 just hours away from starting, we should be hearing more about Google Glass over the next two days.
source:
Google
via
PocketLint