Google Glass app allows you to see your Grand Theft Auto navigation as a HUD
3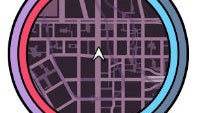 There has been a lot of talk recently about using phones and tablets as a second screen for your computer, gaming console, or TV; but, with the expansion of mobile devices to new form factors like Google Glass and various smartwatches, there are new opportunities to offer many different second screen options. One of the more interesting proof-of-concept ideas is a new Google Glass app for Grand Theft Auto III.
Basically, Mike DiGiovanni, a technologist at digital agency Roundarch Isobar, has created a Google Glass companion app for the PC version of GTA III which brings your GPS map from the desktop screen to your Google Glass. From there, you no longer have to keep glancing to the corner of the screen to check your navigation, because it is in a heads-up display (HUD) on your Google Glass.
DiGiovanni first thought up the idea while playing the new GTA V, which doesn't yet exist on PC. He had trouble loading GTA IV on his various computer setups, so he had to fall back to GTA III to get it to work. However, we think the real takeaway here isn't just the hacker ingenuity to make this work, but in the possibilities available for apps like this directly from game developers like Rockstar. Not just companion apps like
iFruit
, which acts separately but influences the real game, but true second screen apps where there is real-time interaction.
Obviously, Google Glass, smartwatches, and other wearables have a long way to go to hit critical mass in the consumer market before most game developers would bother to create apps like this. But, imagine the world of GTA VI (likely not due out until around 2017), in which wearables have had time to gain a bit of steam. Imagine getting a call from an in-game character (either on your smartphone or smartwatch) telling you about a heist that needs to happen soon. You get home, put on your Google Glass (or competitive equivalent) and instantly get the world map with points of interest, priorities, and navigation. Then you start up the game and get going.
That would be pretty sweet.