Google Earth rendering improvements filter down to mobile devices
8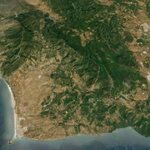 For users of Google Earth on the desktop, this was a big week; Google Earth version 6.2 brought improvements to search, sharing of images to Google+, but bets of all a gorgeous new rendering engine that automatically color corrects and stitches together the satellite imagery that powers Google Earth. The result is a stunningly realistic interactive view of the Earth, that no longer appears to be put together like a patchwork quilt.
Mobile users don't have a massive update on their hands just yet, but the new rendering technology has already filtered down to mobile devices. No, don't bother searching your favorite App Store/Market/Marketplace, there aren't any new versions of the Google Earth apps. Instead, some of the rendering magic goes on behind the scenes on Google's servers. So if you fire up Google Earth on your phone or tablet, you too can enjoy seamless panoramas, likes the ones shown below, which were captures on a Galaxy Nexus.
If you've used Earth before, you know it can be somewhat addictive as you zoom around, checking in on wished-for vacations or favorite haunts of yore. If you're a fan, the experience just got even better.
source:
Google
via
Engadget