Google Assistant brings its bedtime stories to Android smartphones and iPhones
3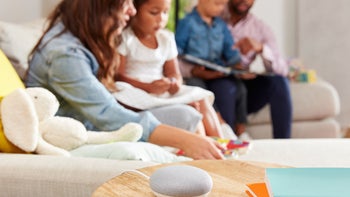 One of the major
Google Assistant
features aimed at children, the ability to tell them stories, made its way to Google Home smart speakers about two years ago.
Starting this weekend
, the so-called Tell Me a Story feature, which is available in English, will be coming to Android and iOS phones in the US, UK, Canada, Australia and India.
To activate the feature, simply say "
Hey Google, tell me a story
," but you can also use the "
Hey Google, tell me a bedtime story
" if you want to get your kids ready for bed. Before you'll be able to do that, make sure that you have the latest version of Google Play Books for Android or iOS installed.
In addition to being able to listen to bedtime stories, families in the United States will be given access to a feature called read along, which is available on all Google Home smart speakers, including
Home
, Mini, Max, and Hub. Thanks to this feature, your bedtime stories will be more immersive since Google Assistant will add sound effects as you read select Disney Little Golden Books aloud, such as Coco, The Three Little Pigs, Alice in Wonderland, and many more.
If you want to use read along, you'll have to use a different command: "
Hey Google, let's read along
." You'll also be able to ask Google Assistant to read an audiobook on Google Play by saying "
Hey Google, read [insert name of the book]
," and you'll hear a free sample if you don't already own the audiobook.
Keep in mind that audiobooks are available on Google Assistant in English in the US, Australia, Canada and Great Britain, in addition to German and Japanese.