Google Allo no longer among the top 500 most popular Android apps
22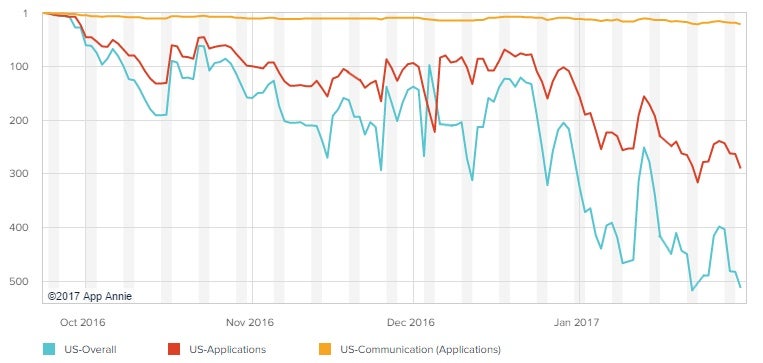 Google Allo's user downloads in the USA between Sep 23, 2016 - Jan 31, 2017, data courtesy of AppAnnie.com
Google Allo is on life support.
As Android Police reported earlier today, the messaging app has dropped out of the top 500 or so apps on the Play Store, which essentially means that the public's overall interest in the app has hit a new low. It's not the first time the app has done this, as its popularity has surged a couple of times in December and mid-January due to updates with minor new features. However, it doesn't take a genius to notice that the overall trend is predominantly a downward one.
It took Google's once-promising messenger app just four days to score 5 million downloads immediately after its release in September 2016, but it then took Allo some 3 months to accumulate
another 5 million downloads
. That lackluster adoption rate was most likely due to the rather bleak and uninspiring feature list of Allo, which lacked a couple of essential and heavily-requested features - SMS support as well as a desktop client, among others. Without those in check, it's almost impossible to win away users from messenger giants Viber, WhatsApp, Facebook Messenger, and mostly iMessage.
Allo's future seems pretty gloomy at this point as it's head straight towards the scrapyard where the rest of Google's failed messenger attempts reside.
Recommended Stories