Good deals: LG G2 and Motorola Moto X price cut to $99 on Amazon, Wirefly
6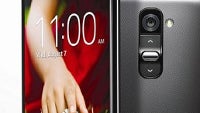 We've already told you about one of the greatest deals around - the Moto X available for just $99 on contract - and now the LG G2, LG's flagship, has received the same price cut treatment. You can buy the G2 for $99 on Amazon, Best Buy and Wirefly, and the $99 Moto X is now also available on Amazon and Wirefly, in addition to Best Buy.
Freshening up your mind, the LG G2 is a device with a vivid, 5.2" display with very narrow bezel and its buttons placed on its back. We find the experimental design works great. In addition, the G2 has top shelf hardware with the Snapdragon 800 system chip and Adreno 330 graphics.
The Moto X on the other hand is a device with a large 4.7" display in a very compact body, one you can actually use with one hand. It's also got an always-on voice recognition system that you can activate without touching the phone, just by saying "Ok, Google". Its price is down to just $79 for Sprint.