Global rollout of LG G4 starts this week
11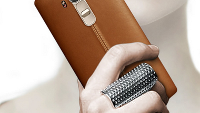 While a couple of texts have given us dates when to expect the
LG G4
to launch in the U.S. (
June 2nd according to T-Mobile
)
and in Canada
(
June 19th according to WIND Mobile
), LG has announced on Monday in Korea that the global rollout of its new flagship phone will start this week. First, keep in mind that there is a large time difference so while it is still Sunday evening in the U.S., it is the next day at LG's headquarters.
First up to greet the new flagship will be Hong Kong, followed by launches in Turkey, Russia and Singapore. From there, most of Europe will be on the LG G4 bandwagon along with North America, CIS, Southeast Asia, Middle East/Africa and South/Central America. According to LG, the manufacturer has already partnered up with 180 carriers and retailers to offer the device.
The LG G4 will come with leather backed versions in six colors. Or if you're an animal rights activist, there are three unique material covers. The phone does have a removable back so that you can swap a fresh battery for the spent cell. Revolutionary, we know. We also recently discovered that while LG hasn't promoted it because of the removable battery,
the phone does have Qualcomm's Quick Charge 2.0 available
to those who purchase a compatible charger.
Other features include the f/1.8 aperture on the 16MP rear shooter, promising great shots under low-light conditions. Use a wave of the hand to snap a selfie with the 8MP front-facing camera. The 5.5-inch Vivid IPS Quantum Display brings you 20% better color reproduction, a 25% brighter picture and a 50% better contrast. The LG G4 is also the first phone to employ the Snapdragon 808 chipset which features X10 LTE to provide a better balance of power and battery savings. The 64-bit SoC comes with a hexa-core 1.8GHz CPU and the Adreno 418 GPU.
Pricing for the device will be announced as the phone is set to be released in each individual market. Check out how LG selects the leather for the LG G4 by clicking on the video below.
source:
LG