LG G4 does have Quick Charge 2.0 capabilities
30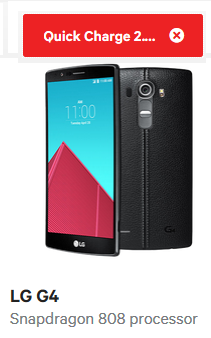 The LG G4 does come with Quick Charge 2.0
Since the
LG G4
offers something not commonly seen these days in new smartphone models, a removable battery, it was assumed by most that the Snapdragon 808 SoC employed by LG did not offer the Quick Charge 2.0 feature found on other Snapdragon chipsets. In addition, LG has not promoted the feature at all. Considering how Samsung and Motorola have made a big deal about this capability on certain handsets, it is no surprise that there was this assumption that the LG G4 did not have Quick Charge 2.0.
But you know what they say happens when you assume something. So LG released a statement that was published on Monday. The manufacturer says that while it did not do anything to have its new flagship support Quick Charge 2.0, the functionality is built into the Snapdragon 808 SoC. But that is only half the game. Quick Charge 2.0 requires a special adapter that supports the technology. LG does not offer this in the box with the phone.
If an LG G4 owner buys a Quick Charge 2.0 capable adapter, the phone will indeed recharge up to 60% in just 30 minutes. If you go to Qualcomm's website, you can see that yes indeed, the LG G4 does come with Quick Charge 2.0. That might make some users of the device feel better. Of course, buying a compatible adapter is going to put a dent in their wallets, but for many power users the cost is well worth it.
"At the end of the day, we see Quick Charge as a nice-to-have, not a must-have, since we offer a replacement battery. This is what we'll continue to focus on."-LG
source:
Qualcomm
via
PocketNow