Gingerbread already ported to a few HTC phones, including the basic Wildfire
2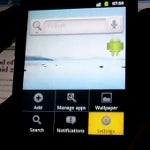 Even though Google divorced HTC for its "pure Android" Nexus line of phones, and turned over to the current hardware juggernaut Samsung, HTC's phones are still at the forefront of taking a bite out of the Gingerbread craze.
HTC EVO 4G
,
HTC Droid Eris
,
HTC Hero
and even the humble
HTC Wildfire
have all been spotted running Gingerbread in different stages of porting, and with various non-working components, thanks to the Android
2.3
SDK released the other day.
Not the real deal, but good proof of concept that Android 2.3 is about as resource-hungry as Froyo, and can run even on lowly chipsets. The rumors that it will require
at least a 1GHz CPU
have been quite off-target, it seems. When the real deal gets extracted from the
Google Nexus S
after release, we should be seeing Gingerbread ROMs popping up all over the place for various devices, and we can also bet a Cyanogen mod will come in no time, so all of us with older rooted devices should be able to take a bite.
via
IntoMobile