Get the BlackBerry Porsche Design P'9982 clock on your BlackBerry Z10
6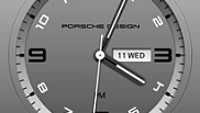 Like the design of the Porsche Design clock on the BlackBerry P'9982? As it turns out, with update 10.2.0.429 version 1803 on your
BlackBerry Z10
, you can find the clock hidden in a backdoor menu on the clock app. If you have the aforementioned update on your Z10, you won't have to spend $2300 to have that cool looking clock on your phone. That's the price of the BlackBerry Porsche Design P'9982, which is the sequel to 2011's
Porsche Design P'9981
. While the former is a premium made BlackBerry Z10, the latter is a futuristic looking premium
BlackBerry Bold 9930
with a strange looking QWERTY keyboard.
To find the hidden Porsche Design clock on your Z10 (after you've made sure that it is running the 10.2.0.429 update) all you need to do is open the clock app and go to world clock mode. While there, click on add a location and type in fostah and then press cancel to go back to the world clock. Swipe down from top and press on the backdoor settings (not clock settings). Switch on
Emulate Porsche Design
and restart the phone. Once the phone is restarted, go to the clock app and from there, select alarm clock. Swipe down clock settings and open the clock face menu. Select from Porsche analog or digital clock and you're finished. And just so you know, the original clock face choices will still be available.
If you think that the Porsche Design clock face would look particularly snazzy on your Z10, follow the directions above and perhaps you can trick your pals into thinking that you own a $2300 smartphone. Remember that you need to have the right OS build running on your phone.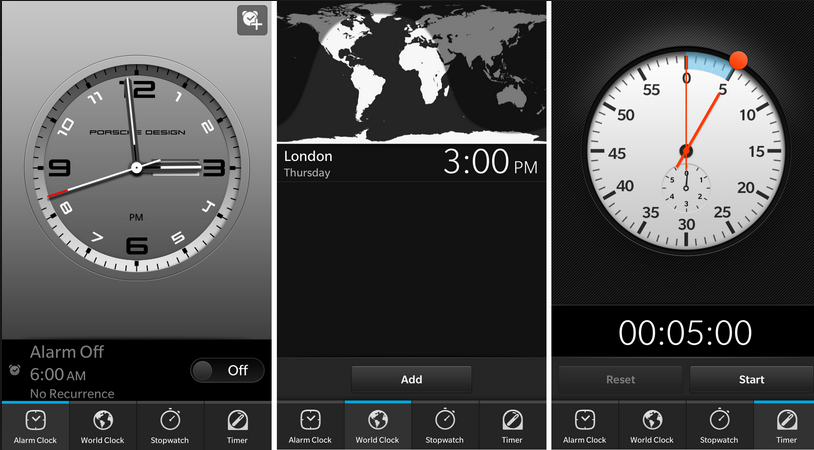 Clock app on the BlackBerry Porsche Design P'9982
source:
BBOS