Best smart devices for the bathroom: from Bluetooth toothbrushes to app-powered razors
4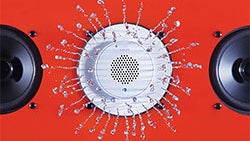 Smartphones have already brought advanced technology and connectivity to our mobile lives, and now their influence is being felt elsewhere, as we look to getting that same sort of smart functionality from other devices. That's sparked
a wave of interest in connected-home technologies
, adding sensors, remote operation capabilities, and app-driven feedback to everything from thermostats to kitchen appliances.
As we outfit our homes with all manner of smart devices, even rooms that have historically been unfriendly (if not downright antagonistic) to electronics are benefiting from a little tech attention, and that's no more true than in the bathroom.
The combination of heat, humidity, and outright exposure to water
doesn't sound like the most inviting environment for smart devices
, but manufacturers have been making real strides in bringing smartphone connectivity to even the humble bathroom. Sure, we're not quite to the point where you can use an app to unclog your toilet (though someone should get on that, because seriously: million-dollar idea), but there's a surprising number of gadgets either out there now or right on the cusp of arriving that are looking to bring your home's water closet into the twenty-first century.
Let's take a look at some of the most interesting, impressive, or just the most fun devices you can use to add a little modern, smartphone-friendly tech to your bathroom.
Philips Smart Shaver series 7000
Shaving sounds so simple: apply blade to hairs, cut hairs, do not cut skin, repeat. But manufacturers of electric razors are constantly trying to one-up each other with advanced new technologies to make the shaving experience faster, more comfortable, and deliver smoother results.
Last year at IFA 2015, Philips introduced the world's first Bluetooth-connected razor, its Smart Shaver series 7000.
The razor's companion app asks users questions about their skin sensitivity, any trouble spots they normally encounter when shaving, and helps tailor the device's performance to address these issues. The app even tracks your feedback over time, helping to guide you towards a shaving experience that minimizes irritation.
Right now the app is available as a preview for iOS only, and Philips says the actual hardware "will be in a store near you very soon."
Who doesn't like to sing in the shower? And while you've got
no shortage of waterproof Bluetooth speakers
to choose from, each more than ready to help you beam some tunes from your phone as you clean off, we're looking for something a little more purpose-built for the bathroom: enter, the Bluetooth-enabled showerhead.
Kohler's Moxie showerhead is available in either standard angle-mount or overhead "rainhead" configurations, in both 2.0 and 2.5 gallon-per-minute options. But no matter which you choose, the Moxie interface with magnetic-attaching wireless speaker that pops right on to the middle of the showerhead.
The speaker comes off to charge over USB, and advertises seven hours of playback on a full charge.
Kohler sells the speaker in a variety of five colors, ranging in price from about $130 to $150. That's just for the speaker, though: you'll have to add another $200 to almost $390 for the matching showerhead.
Just like razors, toothbrushes sound like one of the most basic things you'll find in a bathroom, but the companies behind them have been eager to modernize their products with motorized operation and advanced cleaning modes.
At
MWC earlier this year
, Oral-B brought dental hygiene to the world of smartphones with its not-at-all-humbly-named Genius toothbrush.
The Genius brush combines on-board sensors with your smartphone's camera to watch you as you brush, providing feedback on whether or not you're giving all your teeth the attention they need, and letting you know if you should be spending more (or less) time on certain areas of your mouth. It can also advise if you're applying too much pressure, risking damage to gums or enamel.
The app lets you track your dental-care routine, also soliciting information about flossing and rinsing habits to flesh out its data.
Availability of the Oral-B Genius should get underway sometime next month, but be prepared to pay up for this tech: prices in Europe, at least, start at 225 EUR.
Digital scales are such a perfect match for smartphone connectivity. When we're looking to lose weight (or just avoid gaining it), tracking trends over time is critical, and an app that lets us view our weight fluctuations over weeks, months, and even years readily becomes an invaluable tool for analyzing that data.
Lots of companies have delivered Bluetooth-connected scales, but recently we've had the opportunity to check out one with a major smartphone manufacturer behind it, when
HTC and UnderArmour introduced their HealthBox system
earlier this year.
HealthBox includes connected accessories like a wrist-borne fitness tracker and heart-rate-monitoring chest strap, but for the moment we're focusing on the UA Scale.
The UA Scale connects with your phone over both Wi-Fi and Bluetooth, measures weight up to just under 400 pounds, and can measure body fat. Its software allows the device to separately manage data from as many as eight users, so it's perfect for even large households.
Even though HTC is largely an Android company these days, the UA Record app that connects to the Scale is available for both Android and iOS devices. The complete HealthBox package, including the UA Scale, sells for $400.
So far we've been looking at commercially available devices that add a little splash of tech to your bathroom – and there have been plenty of neat options. But for what's arguably the most impressive, we're taking the do-it-yourself route, checking out the
one-of-a-kind Google-Now-powered mirror
cooked up by Googler Max Braun.
The project combines a two-way mirror with an embedded LCD panel, connected to an Amazon Fire TV stick and driven by some custom code. And while the hardware and software driving the mirror's UI have all been configured just for this project, the online services the mirror taps into are based on standard Google offerings: the mirror can display basically any information you'd access on a Google Now card, and what limited interactions users need to make with the mirror are handled by Google's voice-search tech.
Braun's yet to post anything like a detailed how-to on making your own Google Now smart mirror, but his efforts are still bound to inspire some curious smart-home fans to try their own hands at a similar project.
___

Do you have any neat smart devices that have found a home in your
own
bathroom? Got a crazy robotic toilet from Japan that's got more processing power than your phone? Let us know about it in the comments.
Recommended Stories