The Withings Move ECG smartwatch offers ECG on demand for a lot less than the Apple Watch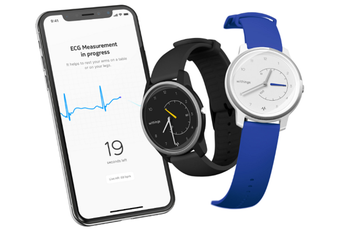 Perhaps the most important new feature available on the
Apple Watch Series 4
is the Electrocardiogram (ECG) scanner. While the heart rate monitor on the
Apple Watch
checks how fast your heart is beating, the ECG checks the electrical activity of your heart. The test determines whether you have an irregular heartbeat that needs immediate medical attention. This feature
has already saved at least one life
.
With the Apple Watch Series 4 priced at $399 and up, not everyone can afford to wear one on their wrist.
Withings announced today at CES
a more affordable solution for those who want to monitor the rhythm of their heart. The Withings Move ECG is a new smartwatch that will be priced at $129.95 when it launches next quarter. Don't be fooled by the analog face; the timepiece can take an ECG reading while the user is wearing the device and touching both sides of the bezel for 30 seconds. The results are sent to the Withings' Health Mate app, which will report any signs of atrial fibrillation. The FDA, which approved the ECG app and irregular heartbeat notification on the Apple Watch Series 4, is presently reviewing the ECG sensor on Withings' watch.
"The ability for people to take an ECG in real-time as they experience a symptom such as palpitation or shortness of breath makes the Withings Move ECG a game changer. While providing medical grade measurements, the elegant watch looks nothing like a bulky medical device. With Move ECG we have created a cardiovascular early warning system that can be worn every day, can capture and record cardiovascular events as they occur and help reduce the risks of heart disease."-said Eric Carreel, President,Withings
In addition to the ECG monitor, the Withings Move ECG also counts your steps, the amount of calories burned and tracks your daily activities including walking, running, swimming, cycling and stairs climbed. The watch also monitors your sleep. Surprisingly, the device does not include a heart rate monitor. That might have been done for looks (the Move ECG has a thin profile) or to extend the battery life (which is estimated at one year). The device is also water resistant to 50 meters (164 feet) and will be offered with both a black and a white dial.