Galaxy SIII gets new 30 second commercial, isn't taking pot shots at Apple
25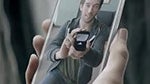 Samsung developed a well-earned reputation over the course of the last year for producing ads that tend to
criticize Apple fans
rather than emphasize how their products will improve your life. Samsung was hardly alone in this; it seemed like the beginning of the year was a time when everyone wanted to take potshots at competitors – for example Microsoft and Nokia spearheaded the
Smoked by Windows
campaign during the same timeframe.
While Samsung's
artistic barista ads
were amusing (at least to non-Apple fans), they also failed to demonstrate why their products were better. So far Samsung has chosen to eschew their inner pitbull for their Galaxy SIII commercials, opting instead to carry on the "
Designed for Humans
" they began at their product launch. The new 30 second spot shows people using their Galaxy SIII to celebrate a wedding, propose to a girlfriend, and a parent and daughter falling asleep while reading a "book" on the handset.
This kinder and gentler take on self-promotion is one we think is more sustainable in the long run – everyone likes a good chuckle at a competitors expense once in a while, but sooner or later you have to make the case that your product
will make consumers' lives better
. Check out the ad below to to decide if they have succeeded:
souce:
Droid-Life