#SmokedByWindowsPhone extended - again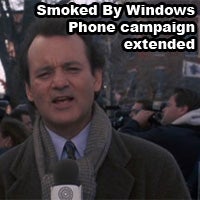 Honestly, it seems a little strange that
Microsoft keeps extending it week after week
. If they want to make this their "thing" so to speak, they should just do that. Granted, they have changed the prizes around since the beginning, but really it's the same old thing.
As if it needs to be explained again, competitors use a phone of their choice to complete various tasks head-to-head against a Windows Phone. Winners receive a $1000 gift card while losers still walk away with $25.
So, if you think you got what it takes to smoke a Windows Phone and net yourself a cool grand, get to a Microsoft Retail Store before May 3rd, or just wait until they extend it – again, and go whenever you please.