Galaxy S9 may come with new AKG earphones and anti-glare camera, audio jack still in play
25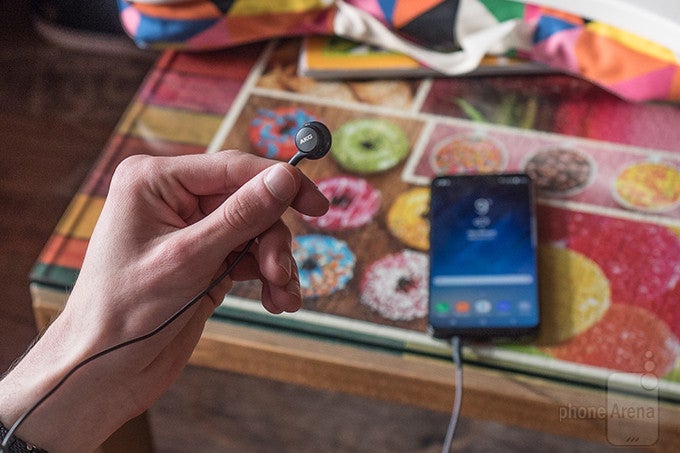 Now, this one is difficult to fathom, but a leakster with good track record regarding Samsung flagships, tipped that the
Galaxy S9
will ship with "new AKG headset," and it might be a Bluetooth model. The AKG part is self-explanatory, as
current Galaxy S8 and Note 8 boxes are stuffed with those
, too, but they are of the wired variety, and actually seem to be Samsung buds "tuned by AKG."
Most audio buffs that analyzed their performance agreed that they are better than average in that they balance well the bass, middle and treble at normal listening volumes, so that you had some low-level thumping when the tune requires it, but you could also hear the vocals loud and clear. That's all one would desire from free buds that come packaged with your high-end phone, but Bluetooth ones? That's really a stretch, and hard to believe. There are no such buds on the AKG site, but let's not forget that Samsung has its own line of Bluetooth earphones, the
IconX
, which can also get the "tuned by AKG" treatment.
'S9 did not cancel the headphone jack'
These cost $199, though,
when not on promo
, so we'd file this rumor in the wishful thinking folder. Asked whether this Bluetooth bet might mean that
the S9 might have no audio jack
, the source said that it's still in play, at least on the latest prototypes they know about, which makes their tip that the AKG buds packaged with the S9 may be wireless even more implausible.
The more interesting part of the tip, however, is a tidbit about the camera on the Galaxy S9. While confirming that the
recently leaked CAD drawings
, allegedly of an S9 prototype with vertical dual camera, are pretty close to the truth, the source hints that the camera "
uses anti-glare BBAR layer ghost technology
." Now, what is BBAR? Well, Broadband Anti-Reflection is simply a type of coating that fights glare and dual images which may be what the "ghost" part is referring to. We don't know why is this so special, given that phone cameras already have anti-glare coatings, just like your prescription glasses do, but it might be something new and better that is worth mentioning.
Anyway, a lot of rumors are
pointing to an earlier release for the S9
, so we'll just have to keep our ears to the ground during the cold winter months, and we'll probably know more about the specifics of the S9's camera pretty soon.
Recommended Stories