Galaxy S8 battery life test, Snapdragon vs Exynos edition: a familiar tale
49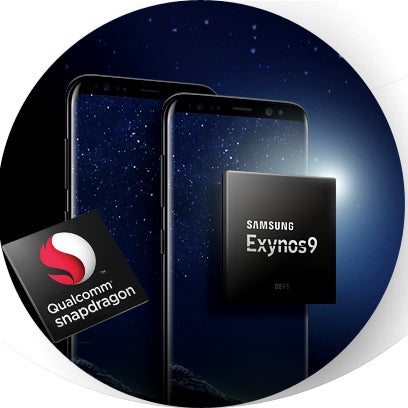 The
Samsung Galaxy S8
has the same battery capacity as its predecessor the
S7
, but lasted longer when we ran it through our standardized battery benchmark. Since both phones come with the power-hungry high-res displays, we can attribute the better endurance mostly to the more frugal Snapdragon or Exynos chipsets of the S8. After all, they are made with the newest 10nm production node, compared to their 14nm siblings in the S7.
While the S8 certainly scores better in that department than the S7, they do share one battery life characteristic - the global version of the S8 with the Exynos chipset still
clocks better endurance
than the Snapdragon-equipped model for the US and China. It is not a small difference, either - the Galaxy S8 with
Snapdragon 835
lasted 7 hours and 30 minutes on our battery test, while the
Exynos 8895
model went on almost an hour longer, for 8 hours and 22 minutes.
While both results mean that the S8 is no "two-day battery" phone like a lot of
midrangers with 1080p displays
these days, the Exynos would still last you a bit later in the day than the Snapdragon-laden model, with all other things being equal. As to why a 10% or so difference in battery life between the two chipsets, given that they are both 10nm endeavors produced in Samsung's foundries, the answer may lie in the differences in design, as we have custom cores in Samsung's and Qualcomm's silicon, respectively, despite that they are likely still based on ARM's OEM Cortex-A73 and A-53 architecture.
Another reason may be the fact that the Snapdragon cores are clocked higher than the Exynos ones, all eight of them. While the difference in maximum clock speeds for the faster cores is not that big - Samsung lists 2.3 GHz for the Exynos vs 2.35 GHz for the Snapdragon - the low-power cores are clocked at 1.7 GHz on the S8 with Exynos, against 1.9 GHz on the Snapdragon version for the US, and that might be tipping the scales during our demanding battery test, but may also present a difference in endurance when using the phones as your daily driver.
Recommended Stories