Galaxy S7 battery life with Exynos CPU vastly superior to Snapdragon flavor, here's the proof
99+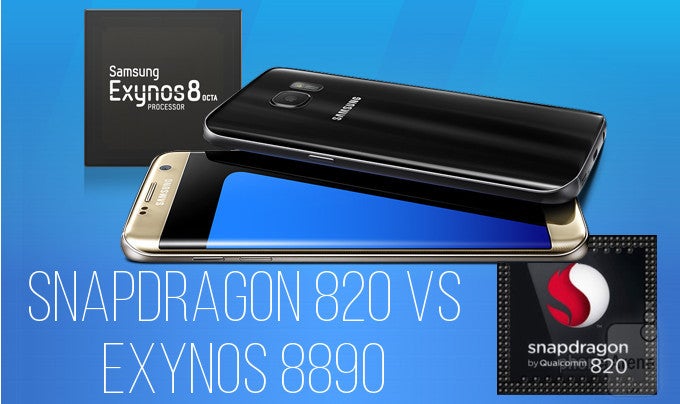 With the exception of last year's Galaxy S6 and S6 edge, Samsung has, for years, partnered with San Diego-based Qualcomm, which supplied some of the processors for its flagship line. If you lived outside of the States, however, chances were that local carriers had the phone with Samsung's own Exynos chipset on the inside. This split is also true this year with the Galaxy S7 and S7 edge: buyers in the States get Snapdragon, while elsewhere, Exynos rules.
For the most part, this split has been rather inconsequential from a consumer point of view, as the chips were always highly similar in terms of overall performance. In fact, back in March, we found that
the Exynos-based S7 is essentially identical to the Snapdragon one in terms of processing power
, managing highly comparable scores in various synthetic benchmarks. What we had reasons to suspect, but had insufficient data to back up, however, is that the Exynos variant is superior in terms of efficiency. Vastly superior, in fact.
New data comes to light
Made exclusively available to PhoneArena by the creators of
GameBench—a tool aimed at developers that are looking to identify and fix performance issues with their apps
—a new, revealing data set is reminding us that we have some unfinished work here. In short, the folks behind the benchmark suite have spent quite some time testing the two Galaxy S7 models, along with the Snapdragon 820-based HTC 10 and LG G5. The tests included audio playback through both Spotify and Tidal, and video watching via both YouTube and Netflix. In concert with our own, custom battery tests, we now have an adequate number of data points to revisit the topic.
Here's
GameBench's
methodology for the video streaming tests:
Streaming through LTE with Wi-Fi and Bluetooth turned off;
Only 12 user-installed apps, some of which logged in and sending in notifications;
Streaming 30 minute clips at automatic quality settings for both YouTube and Netflix;
The Snapdragon 820-based Galaxy S7 had Verizon bloatware that may or may not have affected power efficiency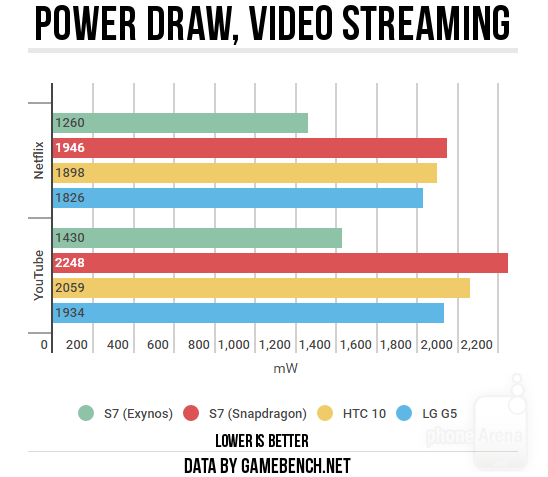 GameBench's methodology for the audio streaming tests was the same as before, plus:
Playing a song for 30 minutes;
Always On Display turned off;
Spotify set to Extreme quality;
Tidal set to Hi-Fi quality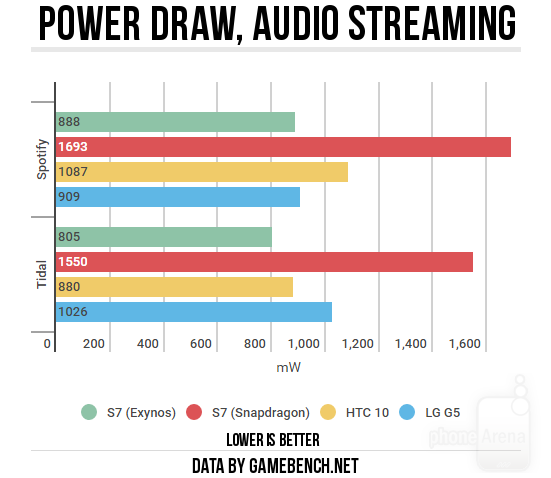 Finally, our own custom battery benchmark scores for the Exynos/Snapdragon Galaxy S7, plus the HTC 10 and LG G5: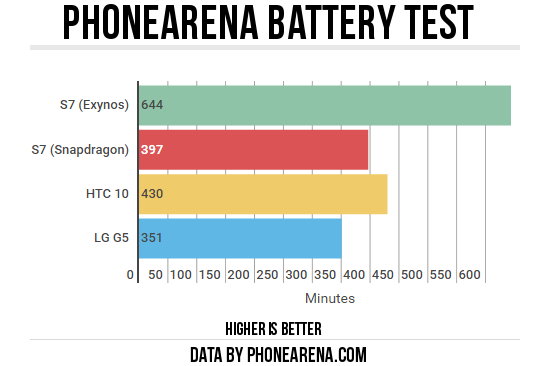 Using the data above and with the help of a calculator, we can conclude the following:
The global (Exynos-based) Galaxy S7 is, on average,

over 71% more efficient

than its US (Snapdragon-based) twin;
Our own test shows

a delta of over 62%

between the Exynos and Snapdragon variants of the S7;
The Exynos 8890 in the S7 is also more efficient than the Snapdragon 820 in the HTC 10 and LG G5;
When it comes to audio playback, the Snapdragon 820 is only slightly behind;
The Snapdragon 820-based Galaxy S7 is the least efficient of the bunch;
Following the publishing of this new data, Qualcomm reached out to us. Here's an official statement, followed by our own comment:
"The software-based methodology for measuring power that's used in this article is primarily designed for app developers who want to understand and optimize power and performance for specific use cases during development. The SoC power consumption numbers stated in this article are very different from the tests that we have run internally. Qualcomm believes that a more controlled test/network environment, along with a method of isolation of the non-chipset components would be required to get accurate chipset level comparisons."

PhoneArena's comment: "We agree with Qualcomm's considerations, as the tests that we and GameBench conducted measure power consumption of the products as a whole, and not their chipsets specifically as isolated hardware components. Our findings reflect battery life and power consumption observations exclusively for the Galaxy S7 and Samsung's particular implementation of the Exynos and Snapdragon chips. In other words, this isn't (and wasn't meant to be) a technical chip vs chip test.
In addition, since testing the Verizon Snapdragon 820-based S7 in the UK meant that cellular fallback was potentially impacted, and therefore so was power draw, we've worked alongside GameBench to modify the testing methodology from above, and adapt it to streaming over Wi-Fi. As you can see for yourself, the results here corroborate our initial findings, so we can rule out this being the issue.
Some changes in the methodology:
Fewer apps were installed on each device (no games);
Adaptive Display was switched off this time around;
Tested over Wi-Fi only, with SIM card removed;
During the testing period, Spotify streamed ~110MB, Tidal ~240MB, YouTube ~345MB, and Netflix between 230-250MB
Power consumption (mW) of streaming apps on each device




UK GS7 (Exynos)

US GS7 (SD)

Spotify

474

1170

TIDAL

556

1042

Netflix

1040

1784

YouTube

1028

2224
Closing words
While we all get to watch video on YouTube, and many of us stream music through Spotify, these are just two out of many activities a phone goes through. In combination with our test, however, which is built to mimic typical real world use, we can draw some conclusions.
Galaxy S7 owners in the States drew the short stick, it seems!
First and foremost, it seems that US Galaxy S7 users drew the short stick, as despite the Snapdragon 820 offering essentially identical processing power, it does seem to seriously lag behind in terms of efficiency. Sure, it being a Verizon model with extra bloatware, we can attribute some of the drain to these two uninstallable apps (My Verizon Mobile and VZ Protect), but we have no reason to believe that they're entirely responsible for the massive delta between the performance of the two flavors.

The rest of the data clearly shows that the Exynos 8890 within the Galaxy S7 is also more power-efficient than the Snapdragon 820 in the HTC 10 and LG G5, especially in terms of video streaming. Our very own tests show a 62% delta between the Exynos and Snapdragon variants of the S7, which is disconcerting.
We've reached out to Samsung for a comment and will update this article should we get one.
Recommended Stories