Galaxy S7 may launch for cheaper, LG G5 tipped to spar with it directly at MWC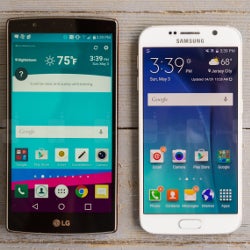 LG
stopped short of confirming for us
the other day that it will
reveal the G5 a day ahead of the official MWC expo start
, saying only that it will be a "major smartphone". Well, today a Korean publication is not being so timid, and claiming directly that LG has decided to take on Samsung by releasing the
G5
on the same day that Samsung would eventually showcase the
Galaxy S7
.
This means that we might see the
LG G5
earlier than usual, as in the last two years the company announced its flagships in April or May, instead of in February as is expected this year. The reason behind this decision? Well, first off, the insiders claim that LG is so certain that it has differentiated the G5 enough from the barrage of Chinese and other competitors, that it is ready to take on the Android world, and the
Galaxy S7
in particular, directly. The second reason is more prosaic - LG would eventually reveal the G5 on February 21 just because it can, said one exec:
LG's decision to choose the MWC for its new flagship is also partly due to enhancements of application processors supplied by U.S.-based mobile chip giant Qualcomm, as its two previous versions ― G4 and V10 ― had been forced to use Qualcomm's less-powerful Snapdragon 808 due to an overheating issue.
The source reiterates once again that
the LG G5 will have a new metal body
, in sync with the times, while the Galaxy S7 will have big changes in the internal components, such as a faster chipset and new camera setup, but will stay largely the same outside. The other interesting tidbit we encounter in the publication is that the "minimal" design upgrade of the S7 compared to the
S6
, would also mean that Samsung is going to launch it at a cheaper price than usual, but we'll believe that when we see it.
LG isn't adding only design and hardware value to the G5, compared to the
G4
, though, as the source claims it will also offer a new user experience and video streaming capabilities, divulging a partnership with none other than Netflix for the purpose. All in all, February 21st is shaping up to be the most interesting day for the first half of the year, so stay tuned to PhoneArena for the complete coverage of the competing narratives of the eventual Galaxy S7 and LG G5 that will get announced then.