Galaxy S5 vs One (M8) vs iPhone5s drop test pays a tribute to HTC's build quality (video)
51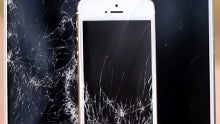 The HTC One (M8) and the
Galaxy S5
have barely been out, and they are already undergoing visits to the torture chamber - first with tests of their
water resistance
, and now with an impromptu drop test. The video below has gathered the current best of Samsung, Apple and HTC, and did some ardent dropping of the handsets to determine who's the most fragile.
With the risk to spoil the end results, we'll just say to be careful while carrying your Galaxy S5, as that
flamboyant new AMOLED display
it boasts won't come cheap to replace, given Samsung's monopolistic position on the panel's production. It's not that the screen of the plastic S5 got cracked more than the unibody metal M8 and 5s - quite the opposite - but its digitizer gave up the ghost very easily with the first higher drop.
HTC's
tightly-packaged creation
, on the other hand, did remarkably well, going down in flames only when it landed face-down from no less than about ten feet (3m) height. Obviously HTC doen't want to have much claims to their
Advantage
program, which offers one cracked screen replacement in the first six months of ownership for free. Check out the full monty below.