HTC One (M8) teardown praises the aluminum chassis, still gives it 2/10 repairability score
38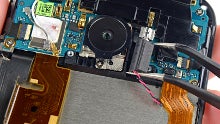 If you thought the HTC One is hard to repair, with its 70% metal chassis, just wait for the teardown results of the new 90% metal body of the HTC One M8. Ok, that was a trap, as last year's edition
received one of the lowest repairability scores ever
, while things with the new One M8 seem to be a tad better. First off, the innards package is not mired in ribbon cables like before, but rather sits on nice spring contacts, so it's easier to take out.
Unfortunately, in order to get to the battery, you have to remove the whole motherboard, but the 2600 mAh unit provides plenty of endurance as it is,
since it topped all 5-inchers in our battery test
. The folks at iFix it say that the low-power sensor set that HTC uses in the One M8 are one of the reasons for such a stellar performance.
The display panel also turned out pretty hard to pull out, but
HTC gives you one free replacement, if you crack it in the first six months
, so that's a slight relief. Lastly, the
Duo Camera
is found to consists of the same UltraPixel main unit we had last year, and a secondary piece for depth of field info collection. Interestingly enough, iFixit mentions we might have even larger pixels this time, which might explain the slight boost in image quality over its predecessor that we noticed in our
One M8 camera comparison
. Still, HTC's new flagship received an overall repairability score of 2/10, so we would advise against
dropping it, or dunking it in water
.