Galaxy S5 tipped to come with 20 MP camera and 'state of the art iris sensor', still plastic
43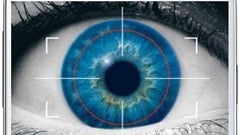 We got tipped on some speculated details about the upcoming Samsung Galaxy S5, half of which corroborate what we've heard before from other sources. but a few different tidbits are rather interesting. Bear in mind this is just one source hinting at stuff, so it could be all just wishful thinking, despite sounding rather detailed and plausible.
The tipster claims that Galaxy S5 will sport a 2K QHD display, which we've already heard numerous times, and is not hard to believe, considering that LG and Sony are also rumored to release flagships with 1440x2560 pixel screens. They also state that the S5 will come with a 2900 mAh battery, not the
4000 mAh unit
bandied about before. In fact, the latest we heard is that the handset will
sport a 2900 mAh juicer indeed
, with rapid charging tech, so that's not hard to believe either.
Here we arrive to the more exotic claims. Our tipster says outright that the camera on the back is going to be 20 MP, which will put the Galaxy S5 in line with the camera on the
Xperia Z1
and the upcoming
Z2
, and up there with the highest-resolution cameras on an Android handset. That's the new thing, as so far every leak has pointed to a
16 MP rear cam
to be on the S5, made with Samsung's
ISOCELL
technology, and perhaps with optical image stabilization, if OIS modules yield is enough to cover the number of sales an S5 is expected to amass. That rumored 20 MP camera is said to record 4K video, and simultaneously snap pictures while recording, too. Those claims aren't hard to trust either, considering we will likely have a new,
more powerful processor in the S5
, and
4K recording
has been unlocked even on some current handsets, like the
Note 3
.
In addition, the source confirms we will have some sort of a "
state of the art iris sensor and wide range of health accessories,
" and that's not the first time we are hearing that the
S5 will have an eye-scanner
that will serve to unlock the device and possibly authorize services, similar to what Apple did with its
TouchID
fingerprint scanner on the
iPhone 5s
. The technology for this is out there, so we wouldn't bet against this rumor, too. What do you think about these claims, is there anything that piques your interest?
Last but not least, our tipster claims that those who are expecting the
rumored metallic design
, will be in for a disappointment, as the Galaxy S5 will be still made out of plastic, yet feature a different design language, compared to what we've come to expect from a Samsung flagship in the last few years. We don't know if the faux leather back of the
Note 3
and
Samsung's PRO tablet line
counts as a "refreshed design", but certainly hope not.
Thanks for the tip, Rajdeep!