No TouchID fingerprint scanners on new iPads
18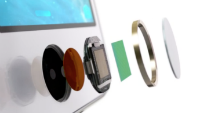 If you're looking for something missing in the new generation iPad Air and iPad mini 2, look no farther than the home button on each device, because what was expected to be Apple's go-to premium feature moving forwards has been left out. Neither the new iPad Air nor the iPad mini 2 has a TouchID fingerprint scanner built-in, despite leaks to the contrary.
We have seen a few leaked images of both the
iPad mini 2
and the
iPad Air
(rumored as the iPad 5) where each device had a fingerprint scanner built-in. There were also a number of leaks on each that did not feature the TouchID sensor, and analysts predicting that the devices
would not feature
the scanners. So, what happened? We have reached out to Apple for comment, but the best guess we have at the moment is it was a matter of production capability.
There were multiple rumors surrounding the iPhone 5s production having problems, and most of the blame was placed on the TouchID sensor. As such, the iPhone 5s launched with lower supply than Apple would have liked, and has left many with a long wait for their new devices. Given that the fingerprint scanner production was already spread thin, it looks like Apple decided now was not the time to push more and add the hardware to the new iPads.
We still expect that the TouchID scanner will become a standard on Apple devices, but this will not be the year that happens. As happens often with iOS features that we would like to see, we'll have to wait until next year. It should also be noted that the KGI analyst Ming-Chi Kuo who correctly predicted that neither iPads would have the fingerprint scanner, predicted the iPad mini 2 would have Retina, and that there would be no gold iPad (all correct), also predicted
big shortages
in production of the iPad mini 2, so we'll be keeping an eye on that.