Galaxy S5 and LG G3 to get the Android 5.0 Lollipop update in December
31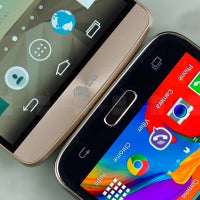 There are two major mobile phone makers that hadn't yet announced Lollipop update plans for their flagships, but today we are completing the update confirmation cycle with a semi-official promise, and a rumor. First HTC, then Motorola and Sony chipped in about their update plans, and now Samsung as well as LG are joining the fray.
LG has chimed in from Europe, promising its Dutch and Belgian
G3
customers, that an
Android 5.0 Lollipop
update should be hitting their handsets before the year has rolled out. That's pretty ambitious, though it probably means the update would arrive shortly before Christmas, in the last possible spot from the self-inflicted timeframe.
As for the popular
Galaxy S5
by Samsung, the initial hope for a November-bound Lollipop is now firmly moved to December, tipped sources, as could be largely expected. Samsung already
teased an Android 5.0 update for the Note 4
, so things are hopefully moving fast in that direction.
HTC promised it in 90 days after the source code release
, so it might hit the
One M8
before the year has passed, too, while
Sony has left it for early next year
. All in all, any flagship update released within three months would be considered great success, given how Android releases have gone so far, yet when it comes to carrier versions, we doubt things would happen this fast.