The Galaxy S11 camera tips keep adding features, like multiple 3D sensors
6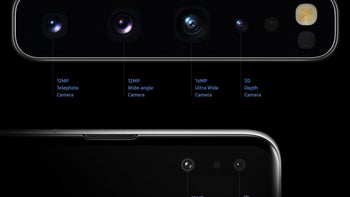 What piqued our interest when Samsung was teasing the new
Galaxy S10 5G
features was the enigmatic "better spatial perception" when explaining what the four rear cameras bring. Samsung, it turned out, has been developing time-of-flight (ToF) camera sensors to go into its smartphones this year.
The tech is different than the 3D structured light face-reading kits on the front of phones like the iPhone 11, Pixel 4, or Mate 30 Pro in that it can map a whole room full of objects for you. It's different than popular mobile AR efforts like Pokemon Go, too.
The TrueDepth camera setup on the iPhones uses 30,000 points to develop your 3D face matrix from a foot distance, while phones equipped with ToF cameras use a sensor and auxiliary light kit that can detect and map up to 10x that at a distance of about ten feet, bringing about more opportunities in 3D space sensing.
In any case, the ToF camera technology will be arriving on that incredible new camera that the Galaxy S11 is supposed to possess, too. So
says
Korean media, and even lists the sensor provider as being China's Sunny Optical, the same guys that do some of the S10 5G time-of-flight camera kits, so we'd wager to guess the S11 will sport similar functionality.
Together with two Korean suppliers - Namuga and Partron - the three companies provide all the Tof cameras that Samsung needs, including for the Galaxy Note 10+. Since the Galaxy S11 is expected to sport more than one 3D depth sensor, the prospecting of Sunny Optical "
is making South Korean camera module suppliers nervous
," claim the industry sources.
Let's not forget that we already heard how the Galaxy S11 will sport a
5x optical zoom
that will be out of this world, or a secret sauce that may or may not be
liquid lenses
or a
miniaturized spectrometer
. In any case, Samsung is apparently gunning for a radically improved camera experience for its S-series, if not for a radically different design. Hey, given that the hole-in-display look is not even a year old, we'd not expect more than a
little bezel-trimming
from the S11 design
compared to the Note 10 one
, and that's that.