The Galaxy S11 camera may surprise us all
21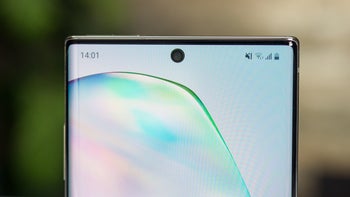 Once again, a serial Samsung leakster that specializes in hardware tips, is warning fans to wait for the Galaxy S11 if they want to see a real camera upgrade. This time around, however, Ice Universe quotes that the S11 will bring to the photography or maybe videography tables "something that has never been seen before," leaving us wondering what could it be.
The camera set on the Galaxy S11 may opt for higher resolutions, more variable aperture steps, extra time-of-flight sensors and higher zoom levels, and that's just what we've heard so far. These are all things that exist, however, and if they mean they will be on the S11 in improved versions, that's not as exciting but let's not get ahead of ourselves. Heck, we are just about to enjoy the brand new Note 10 family before we think about the next great thing from Samsung.
The S11 camera will bring something that has never been seen before. Samsung fans, if you care about the camera, please skip Note10

— Ice universe (@UniverseIce) 26 август 2019 г.
Galaxy S11 camera specs and features
Starting with the multistep variable aperture as the freshest rumor, Samsung is reportedly planning to increase the f/1.5 and f/2.4 points of its current flagship camera with one more but it's anyone's guess what it would be. The triple-aperture lens did not arrive with the Note 10 as hoped, so maybe Samsung is saving it for the S11. It could also include something called liquid aperture lens, muse in the tweet comments. These combine the current fixed multi-element lenses with "liquid" ones that can change their spherical curvature when current is applied for extremely fast changes in focal points. Samsung has been working with one provider - Varioptics - for years on these now. In 2017, Varioptic became a part of Corning - the makers of your phone's Gorilla Glass - through an acquisition that included Varioptic and Invenios technologies for packaging and stabilizing such lenses. Coincidentally, Samsung has strategic partnership with Corning, so that's where the speculation about liquid lenses on the S11 comes from. Here's how the technology works:
Galaxy S11 camera sensor resolutions

The S11 is due for a camera upgrade
There are new
64MP
and
108MP
sensors from Samsung that output 16MP and 27MP photos in a pixel-binning mode that combines color and brightness information from four pixels into one virtual. We doubt that Samsung will be using those for the main camera, though - more pixels don't equate a better picture per se, as they are usually made tinier to fit the count, and collect less light, all other things being equal. With the magic of pixel-binning, or combining information from several pixels into one, however, not only is the resulting photo file smaller in size, but also the snap itself is usually able to overcome the smallish pixel size with some algorithmic trickery.
Besides high-res photos, Samsung's new sensors with Tetracell technology offer improved low-light performance, better highlights exposure for bright elements, even faster autofocus and improved HDR photography, nearing the perception of the human eye. Everything is on paper still, though, and nothing beats a large sensor size, though, so maybe Samsung will use a brand new one on the S11.
Last but not least, a Samsung supplier is reportedly building a dedicated factory for time-of-flight (ToF) sensors, like the one on the Note 10+, and analysts forecast a surge in demand for those. These will be used for better spatial perception, superior face recognition, and improved portrait-style shots. Samsung's ToF onslaught is expected to invade even its midrangers, so the rising time-of-flight tide is likely to lift the Galaxy S11 boat as well.
In any case, we'd love to see Samsung step up its game in the photography department. It already makes some of the best mobile camera sets out there, but with the
iPhone 11
, and especially the
Pixel 4
promises for significant camera upgrades, it can't afford to rest on its laurels for another full year. This is why we are fairly confident that the most significant upgrade in the S11 will be the camera, while the design will be
similar
the refined version of
Infinity-O
that the Note 10 now carries.