The Galaxy S10e, S10 and S10+ release is today, which color are you getting?
19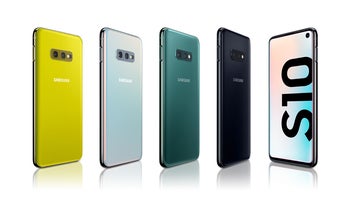 The Galaxy S10 family is the best thing that has happened to the flagship S-line of Samsung since, well, the
OG Galaxy S
. They are "all-screen," camera-laden, and there are three of them, each directly addressing the other smartphone juggernaut in the building.
The
S10e
is meant to overpower the
iPhone XR
, the
S10
goes up against the
iPhone XS
, and the
XS Max
has a formidable competitor in the souped-up
Galaxy S10+
with its triple rear camera set, huge battery, and a hole-in-display dual selfie taker. Apple may very well see its sales do an extra tanking move in hot markets like China, where retaliation against the trade war with the US is making it a patriotic duty to buy Huawei, and if you want a top-shelf foreign brand, Samsung is waiting in the wings.
Which Galaxy S10 version are you getting today?
The Galaxy S10 trio was seeing
huge pre-order moves there
, and today is the release day, so we'll keep an eye on the developments. Samsung has put up a
release post
today, on International Women's Day, saying that the phones will be available in no less than 70 countries today, among which are the all-important U.S., India, China, and European markets. By the end of the month, they say, the S10e, S10, and S10+ will be available in 130 markets globally which is no small feat in distribution and availability and we can't wait for the first sales numbers to start trickling down.
Recently, even famed Apple analyst Ming-Chi Kuo turned his attention towards the S10 family launch, and
revised his forecast upward drastically
, so 2019 may turn out to be the year of Samsung, especially when we are still waiting on the
5G version of the S10
and the unique
Galaxy Fold
, too. This is why we wanted to ask you which of the new Galaxies you are thinking of getting or have already ordered, and in what color version? Unfortunately, the US models aren't getting the Prism Green option,