Galaxy S10's photographic specs detailed anew, promising a 'significantly improved camera performance'
15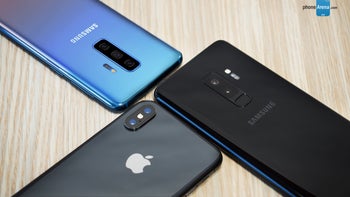 Galaxy S10 'Lite' - single front-facing camera, dual rear camera (zoom)
Galaxy S10 - dual front-facing camera, dual rear camera (zoom)
Galaxy S10+ - dual front-facing camera, triple rear camera (+ wide-angle)
Galaxy S10 5G - dual front-facing camera, quad rear camera (+ ToF sensor)
The top
Galaxy S10
model is widely expected (pun intended) to sport three cameras on the back, and today
Korean media
reiterates this notion while detailing the camera parts' suppliers. We say pun intended because the
S10+
is supposed to land the Holy Grail of lens technologies in one handset - a main 12 wide-angle camera, a super wide-angle 16MP one, and a 13 MP telephoto cam for what may end up being 3x optical zoom efforts like on Huawei's flagships.
We won't bore you with details what company supplied what flexible cable, but will just extract what interests us as end consumers - which S10 model gets how many cameras, front and back. Starting with the cheapest expected member of the extended S10 family, with the so-called "
S10 Lite
" moniker, it is reportedly going to ship with a dual camera on the back, and a single selfie snapper.
That is still one more camera than the current
S9
, so no complaints here. This one is expected to sport a simple
flat, instead of a curved OLED display
, which will appeal to a lot of Samsung fans, so the company seems to be cutting costs from the right places with the eventual "Lite" model.
Moving on to the next level, the S10, or whatever it's marketed as, will add one more camera - an extra front-facing snapper for reasons yet a mystery. The top-end S10+ model will allegedly up the ante with a wide-angle rear camera, in addition to the dual front and back cameras of the S10, for a total of five.
Last but not least, there is the
hexa-camera S10 5G version
, of which Samsung reportedly plans to produce only 2 million units, given that only Korea and a few other countries will have 5G networks up and running in full bloom for the spring. That one may add a
time-of-flight 3D-sensing camera
for AR/VR purposes, in addition to what the S10+ would have. There you have it, and the source is quick to note that "
the Galaxy S10 series has significantly improved camera performance
." No kidding.