Samsung to provide Olympians with a special, limited edition Galaxy Note 8
27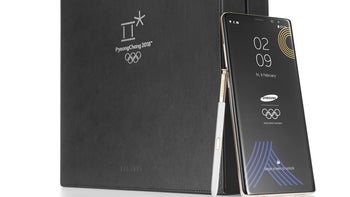 You may have heard that we will be having another bout of Olympics this year. Yup, it's the year of the Winter Olympics and it will be hosted by none other than South Korea. As you probably know, it's a pretty huge event, which attracts mind-boggling amounts of people and needs tons of funding in preparation for the influx of sports teams and observers alike. With South Korea as the host this year, you can be sure that Samsung is among the main partners for the event!
So, Sammy will be welcoming all the Olympians as well as the supporting staff that is working tirelessly to make this event happen by giving them all the gift of Note — more than 4,000 exclusive
Galaxy Note 8
phones will be given to the PyeongChang 2018 Olympic family.
What sets this limited edition Note 8 apart is the fact that it has a white back with gold accents and the 5 Olympic rings stamped on the handset's back. It's also pre-loaded with thematic wallpapers and a suite of apps that will be useful to the recipients. The handset will likely not be available for sale, unless some of them leak out to the second-hand market.
The Paralympians at the Paralympic Winter Games PyeongChang 2018 will also get their Galaxy Note 8 phones, paired with cases that feature the Paralympic Games logo.