Galaxy Note 6 tipped to come with enhanced Snapdragon 823 chipset
57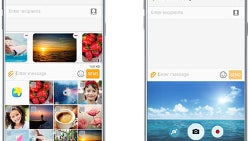 Samsung may unveil the
Note 6
earlier than the
Note 5
's August cameo, as the rumors have
pegged it for July announcement
. If this speculation is true, the Note 6 rumor mill should soon start filling with water to the brims, and the first outpour today claims that Samsung's next Note will have an upgraded processor. The source indicates that this new chipset will be Snapdragon 823, which sounds like an enhanced version of the 820 that is in the
S7
and
S7 edge
now. Here, Snapdragon 823 is also tipped to be present in the next
LG G Flex 3
, and a yet-unknown Sony Xperia flagship.
How enhanced will 823 be against 820? Well, it is listed to feature up to 3 GHz core clocks (compared to 820's 2.2 GHz clocks), but have the same support for up to 8 GB of DDR4 memory. The
last Note 6 rumor
claimed that the phablet will have 6 GB of RAM, so there you have it. That's not out of whack, as Samsung placed 4 GB in the Note 5, while now even the Galaxy S7 has that, so the Note 6 might receive a little extra RAM boost, and it won't even be
the first phone with 6 GB of the stuff
.
Furthermore, Samsung already announced that it has
started mass producing 12Gb LPDDR4 RAM chips
, and itself noted in the press release that this will allow the creation of smartphones with 6 GB of RAM. As there are 8 bits in a byte, a 12Gb chip can actually hold in 1.5GB of information. By pairing together four such chips in a dual channel config, Samsung can now make smartphones that come with 6 gigs of RAM easily, and that privilege might be reserved for the Note 6 first.
As far as that mysterious Snapdragon 823 variation, it's actually not the first time we are hearing about this chipset, as both the Xiaomi Mi Note 2, and the
HTC 10 Mini
have been rumored to sport precisely this (still unannounced) Pro version of Snapdragon 820. All in all, with the rumored tad larger screen than the Note 5, faster Snapdragon than what we have in the S7, and 6 gigs of RAM, the Note 6 may just be enticing enough for those who are on the fence about upgrading, what do you think?