Galaxy Note 6 may ship with 5.8" display, 6 GB RAM and 12 MP camera
96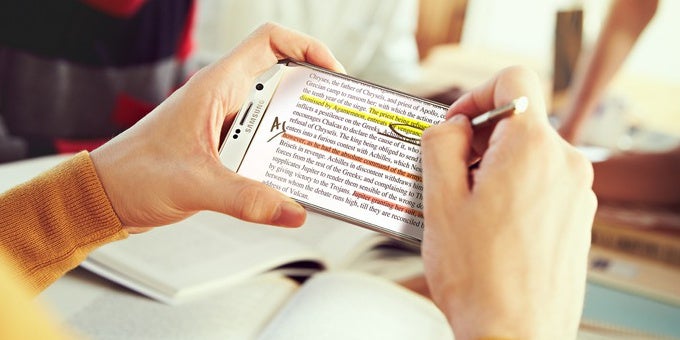 The ink from the
Note 5
's S Pen hasn't completely dried out yet, and we are already in for a rumor treat about its successor. That's not the first time we are hearing something about the phablet whose unveiling is many months away, and won't be the last, but the current speculation comes with a collection of specs that are pretty believable, with only one outlier.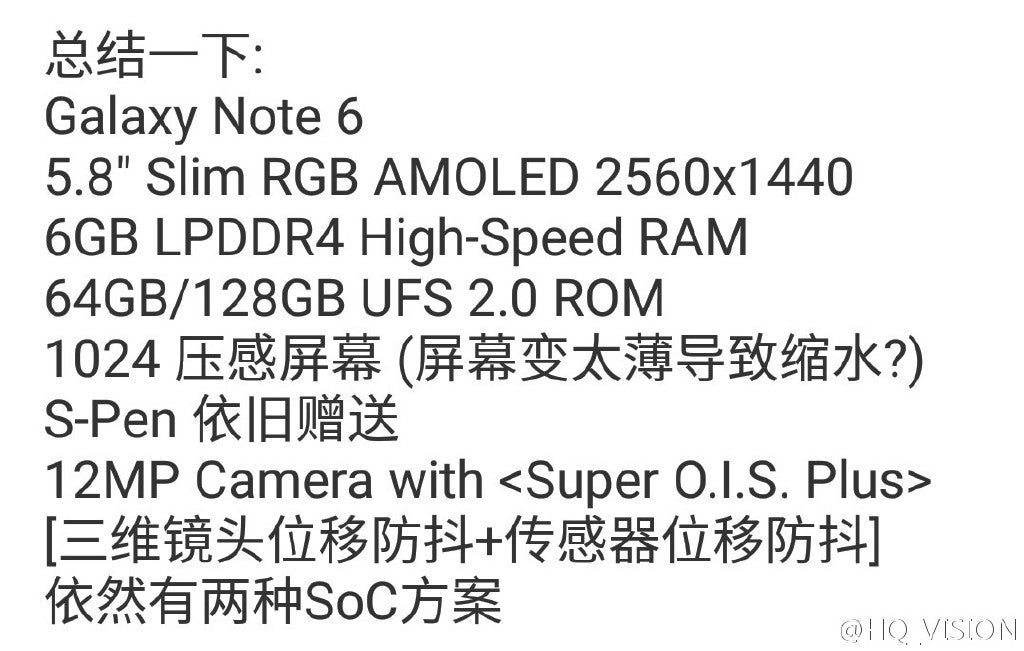 From a leakster Weibo account from the untamed prairies of the Chinese tech blogosphere now comes a tip that the next Galaxy Note 6 will arrive with a 5.8" Slim RGB AMOLED display with 1440 x 2560 resolution and 1024 pressure points. The "slim" part likely means the obvious - that Samsung may have managed to shrink the display package footprint, but does RGB mean it will do away with the PenTile "
diamond pixel
" matrix? This would be interesting to follow, as it would suggest a new production technology for Samsung's AMOLED displays will be in store with the Note 6. The new 5.8" screen size, if it is not rounded up from 5.7" and change, would also suggest something similar. Moreover, if Samsung indeed outs a 5.1"
Galaxy S7
and 5.5"
Galaxy S7 Edge
next week, a slightly larger than 5.7 inches panel would help it differentiate the Note 6 even further in its portfolio, especially if it sports the
stellar screen-to-body ratio of its predecessor
.
Going through the rest of the specs sheet tipped here we see the Note 6 listed with 6 GB of RAM, which may sound overkill, but let's not forget that Samsung placed 3 GB of RAM in the Galaxy S6 last year, while the Note 5 has 4 GB. Furthermore, Samsung recently announced that it has
started mass producing 12Gb LPDDR4 RAM chips
using a 20nm process technology, being the first company on the globe to achieve the feat. As Samsung itself noted in the press release, this will allow the creation of smartphones with 6 GB of RAM. As there are 8 bits in a byte, a 12Gb chip can actually hold in 1.5GB of information. By pairing together four such chips in a dual channel config, Samsung can now make smartphones that come with a whopping 6 GB of RAM, so this part of the specs list here doesn't sound all that far off any more.
When it comes to chipsets, the leakster only claims that the Note 6 will arrive with "two SoC solutions," likely both Snapdragon and Exynos variations, just like the Galaxy S7 and S7 Edge are supposed to be. The other very plausible tidbit is that the Note 6 will use a 12 MP camera sensor with Super OIS Plus system, perhaps the
same setup that is rumored to be in the S7 and S7 Edge
, if history is any indication. The OIS Plus is said to mean a 5-axis image stabilization system, so there's plenty to look forward to from Samsung on the camera front. Finally, Note 6 is apparently equipped with an S Pen (duh) and may come in 64 GB/128 GB version, which could indicate the lack of a microSD slot. No info yet on battery capacity, or if there will be major design changes, but we are certain that there will be plenty of leaks to fill in the gaps between now and late summer. What do you think, do these specs sound enticing if they materialize like that in the Note 6?
Recommended Stories