Report: Samsung Galaxy Note 6 to be launched in July, Android N on board
99+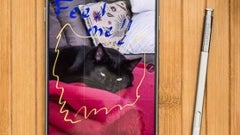 Released in August 2015, the
Galaxy Note 5
is still one of the best large smartphones that you can currently buy, and we obviously expect its successor - likely called
Galaxy Note 6
- to be even better. We're also expecting the Note 6 to be released one year after the Note 5, but it looks like this may actually happen a bit earlier.
According to a report from Korean website The Bell, which quotes sources familiar with the matter, Samsung is planning to launch the Galaxy Note 6 in mid-July (less than 4 months from now). It's said that the new Note, allegedly codenamed Grace, will run Android N out of the box, which means Google should have the final version of the new OS ready by July - and it might very well do that, since an
Android N Developer Preview
is available as of earlier this month.
Unfortunately, the Korean website doesn't reveal anything else about the Galaxy Note 6. In any case, not long ago, we heard that the handset may sport a 5.8-inch display, thus being a bit larger than the Note 5 (which, as you probably know, offers a 5.7-inch screen). The new S Pen-equipped device could also feature 6 GB of RAM, a 12 MP rear camera (most probably, the same one that the
Galaxy S7
and
S7 edge
have), and up to 128 GB, or even 256 GB of internal memory. Last month, Samsung officially started mass producing
256 GB memory chips
for smartphones, so having this previously unheard of amount of storage space on the Galaxy Note 6 is technically possible.
Needless to say, at the moment, we can't confirm anything regarding the Galaxy Note 6. What would you want Samsung's next-gen Note to offer?