Galaxy A50 and A30: Samsung's new mid-rangers look good!
6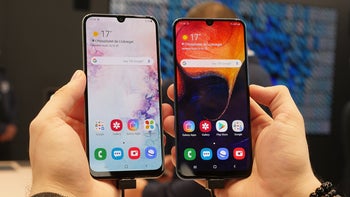 Samsung's more affordable phones don't quite get the publicity of the flagship Galaxy and Note lineups, but this doesn't mean that you should scoff at the company's mid-rangers. This is wholly true for the brand new Galaxy A30 and A50 phones: both launched at MWC'19 and were quickly drowned in the informational torrent pertaining to the Galaxy S10 lineup.
Not for long, though, as we had the chance to play with the new Galaxies at Samsung's large MWC'19 booth in Barcelona, Spain.
Design & hardware
From the get-go, it's pretty difficult to tell the two devices from one another as they look nearly identical from the front. They are both made of glossy plastic that imitates glass and don't feel especially premium, but it's all cool as this helps keep both weight and cost down.

Despite Samsung's reluctance to adopt it, both the A30 and the A50 feature a U-shaped notch up top, as well as fairly thick bottom bezels. That would probably be unacceptable from a purely design standpoint when it comes to Samsung's flagship phones, but we are inclined to give it a pass because we are dealing with mid-range devices here.

One of the bigger design differences between the two devices is implied by the differences at the back of the two phones. Turn them around and you will see that the Galaxy A30 has a regular fingerprint scanner, whereas the A50... doesn't. That's right, Samsung has an optical in-display fingerprint scanners are seeping down to the mid-range lineups. It's nice that this feature is not confined in exclusivity with the flagship Galaxy line, though as with the Galaxy S10, your mileage may vary when it comes to its usability and responsiveness.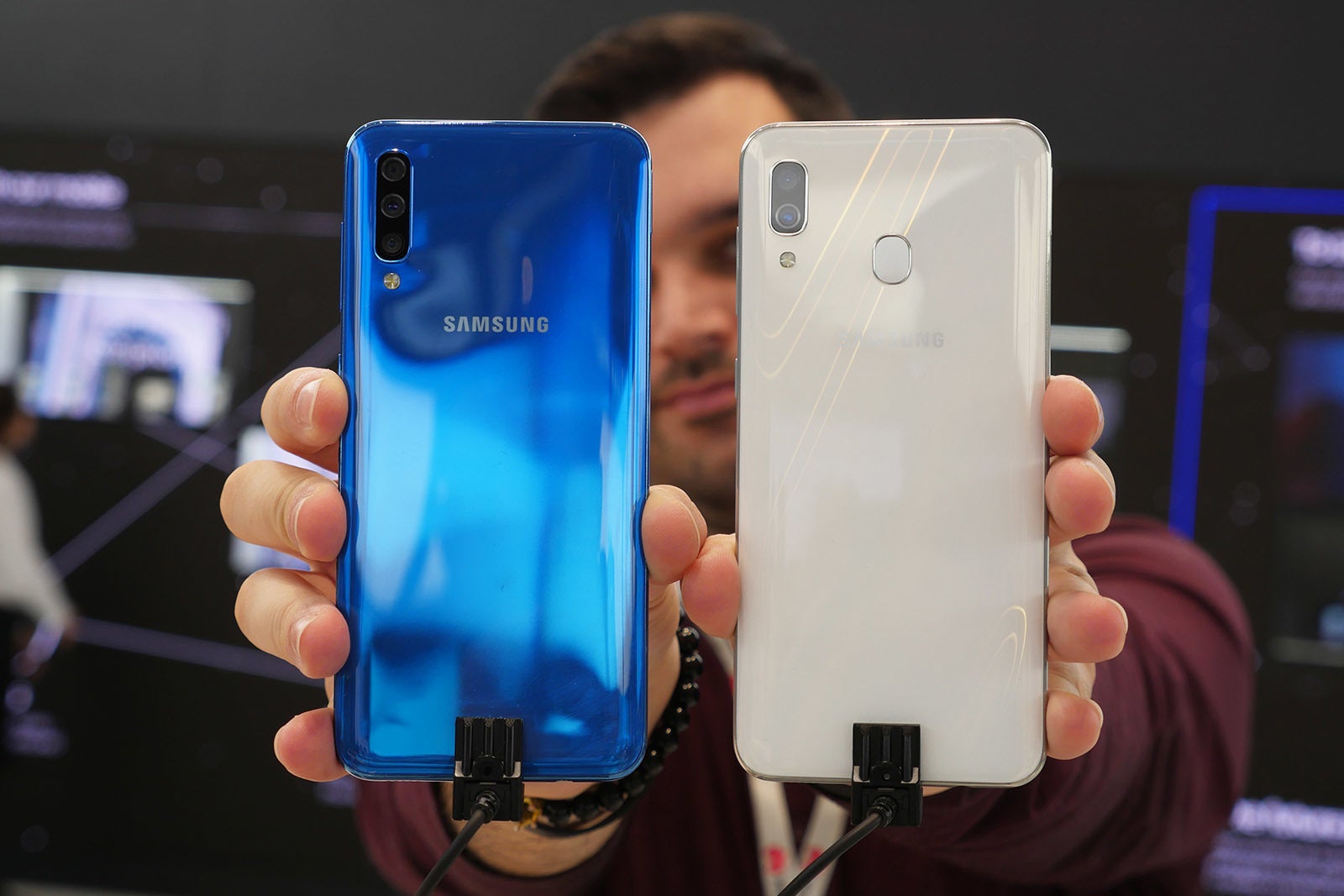 Another important difference between the two phones is the fact that the more premium Galaxy A50 is IP68-rated for water- and dust-resistant, whereas the A30 has no such feature on deck.
Both phones feature large, 6.4-inch AMOLED displays that are vivid, bright, and overall, pleasing to look at. Samsung perfected the AMOLED recipe years ago and we expect nothing less of the South Korean company, even though we are dealing with mid-range devices here. Powering both phones are Samsung's own Exynos processors: in the case of the humbler A30, we have an Exynos 7904 chipset, which is comparable to the Snapdragon 636 in terms of performance, while the Galaxy A50 boasts the Exynos 9610 chip, which is Samsung's equivalent to the Snapdragon 660. Performance seems okay for the most part, though you shouldn't expect miracles and flagship performance. They will get the job done, though.
In terms of storage, the A30 is available with 3 or 4GB of RAM, and 32 or 64GB of storage, respectively. Meanwhile, the Galaxy A50 boasts either 4 or 6GB of RAM along with 64 or 128 gigs of storage. Completing the setups on both models are 4,000mAh batteries, support for Samsung Pay and Fast Charging, microSD card expansion, and an unspecified version of Android which is presumed to be Android 8.1 Oreo rather than Android 9 Pie. Cool beans!
Camera
This is yet another area where the Galaxy A50 easily outshines the A30, as if there was any doubt that the two were comparable. From the get-go, the A50 inherits the now-trendy triple camera setup at the back, consisting of a 25MP regular camera, an 8MP wide-angle snapper and a depth-perceiving sensor for more natural bokeh in portrait mode. That's right, similarly to the S10, the A50 shoots portraits with its relatively-wide angle camera, which makes for a slightly distorted perspective that's unnatural when it comes to portraits. Rules are meant to be broken, for sure, but there's a reason why portrait photographers usually use telephoto lenses.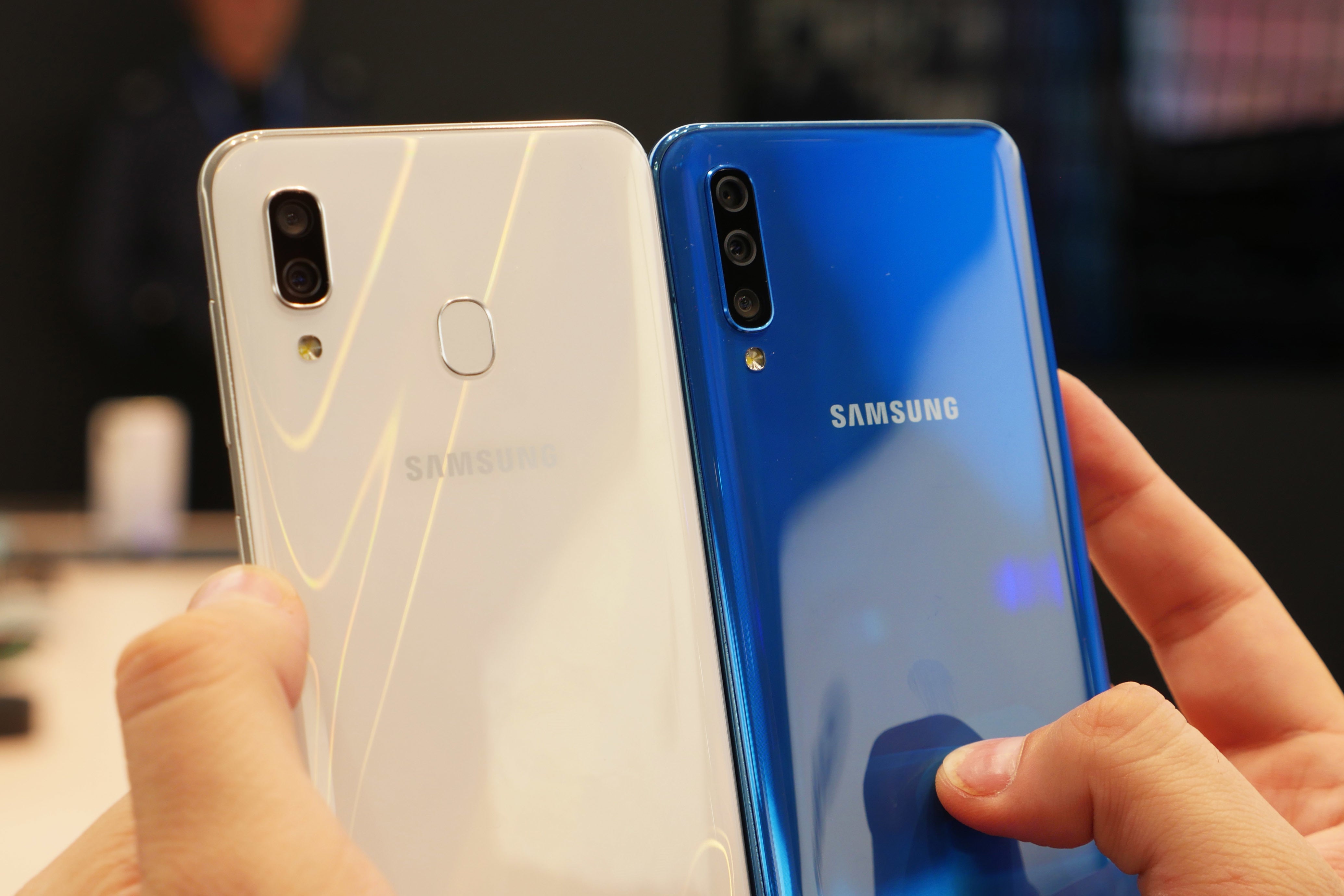 Meanwhile, the Galaxy A30 comes with a 16MP main and 5MP wide-angle solution at its back. No depth sensors here - after all, it's supposed to be the more budget-oriented device. The selfie cameras nestled in the notches on the front are 25MP and 16MP, respectively, and they seemed to be more than capable of snapping an Instagramable selfie.
Expectations
You shouldn't be sleeping on these two, despite the fact that they are mid-range devices. Samsung doesn't seem to have skimped in on any essential area on either devices, and while this might be truer for the Galaxy A50, the A30 might also be perfect phone for a certain crowd. Of course, prices will be the judge of all that - provided that Samsung doesn't go too overboard with the pricing, the A50 and A30 have the potential to become quite intriguing offerings in the upper mid-range and mid-range segments, respectively. We will keep an eye out for those two, for sure.