G Whiz: marketing boo boo changes name of new HTC DROID Incredible 4G LTE
25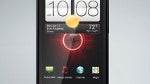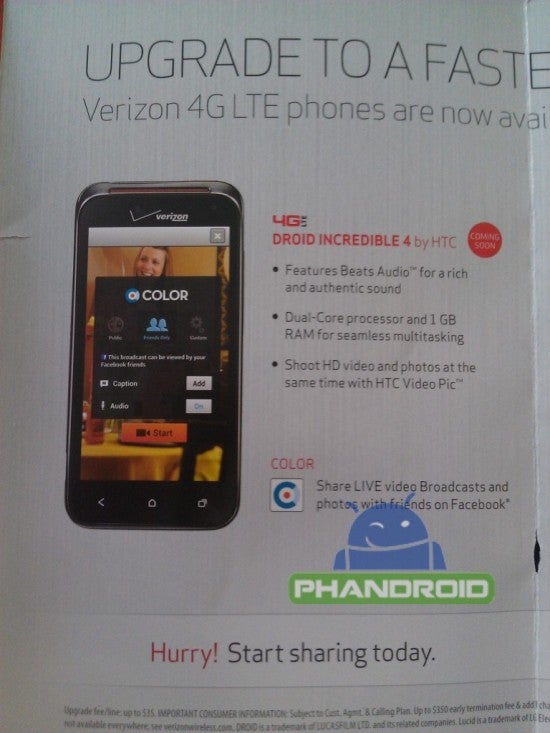 What happened to the G and the LTE?
The HTC DROID Incredible 4G LTE is
expected to launch July 5th via Verizon
. With that date sneaking up upon us, Verizon has started sending out some ads. Let's face it,
this might be a hard sell for Verizon's sales team
for a big reason. A week after the launch,
out comes the Samsung Galaxy S III
.
With a price difference of only $50 in the
form of a mail-in rebate for the HTC model
, that may not be enough to persuade a knowledgeable smartphone fan to buy the DROID Incredible 4G LTE. Verizon reps are going to have to use the week between the launches to sell the HTC DROID Incredible 4G LTE to those customers who have an upgrade burning a hole in their pocket, desperately need a new phone, and are not familiar with the smartphone industry. This way, when the rep says that the HTC DROID Incredible 4G LTE is "our newest Android model," it will be the truth. That is, until the Samsung Galaxy S III is released.
Verizon might have accidentally confused a few people by sending out an ad containing a phone called the HTC DROID Incredible 4. Considering that there has
never been a DROID Incredible 3
, it would be a pretty safe assumption that the "G" and the "LTE" fell off the page before the ad hit the press. Hopefully no one got hurt when those letters hit the floor. The HTC DROID Incredible 4G LTE is equipped with a 4 inch Super LCD display with qHD resolution and a 275ppi pixel density. A dual-core 1.2GHz Qualcomm Snapdragon S4 is under the hood and 1GB of RAM is aboard. Native storage of 8GB can be expanded to 40GB using the 32GB capacity microSD slot. The rear facing camera is 8MP, has an LED flash and captures video in 1080p. There is also a front-facing camera for those whose ego demands that they shoot self-portraits all day, or so that they can engage in video chat. Android 4.0 is installed out of the box with Sense 4.0 on top.
source:
AndroidForums
via
Phandroid