G-Shock phone is ugly, but tough enough not to care
30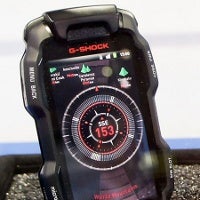 G-Shock
has obviously brought this monster phone concept prototype back at CES, and it went a little bit under the news radar, but with such a combination of hideous forms and extreme toughness it's definitely worth a special mention.
The company aims to
"change the cell phone game forever introducing the toughest phone on the market,"
but while we can doubt the first claim, the second certainly seems true: the G-Shock phone concept is imagined to remain safe under water when submerged down to as much as 33 feet (10 meters), be able survive a 10-foot drop, and won't crumble even under a
ton of weight
. Obviously, it also runs an unspecified version of Android.
Could it look better? Probably, but with such features it could also probably afford to turn its muscular back on design. We can imagine it'd also boost your macho image, so would you get it, if it indeed becomes a retail reality?