Friday the 13th means a message from Nokia, not Jason and a hockey mask
23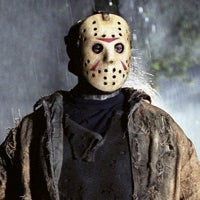 Friday the 13th usually means a big guy with a hockey mask is coming to get you if you are a promiscuous teenager who likes to flaunt a sexual relationship. But tomorrow the date also means that Nokia has something to tell you. Actually, it doesn't seem to be a new product announcement, so don't expect to be haunted by the
Nokia Lumia 1520
and its giant 6 inch screen.
According to the text, Nokia is planning on showing us how our Nokia Lumia will survive the 13th. Which does bring up an interesting point. We've never seen guys like Jason or Freddy or even Chucky sporting a smartphone. Which model would they use? We could just imagine Jason getting excited about advancing to the next level of Angry Birds. A more cerebral sort, Freddy Krueger would probably be more of a Words With Friends type of guy (although what does that say about Alec Baldwin?)
Wow, we certainly got off the track here. Anyway, just remember that you're supposed to check in here on Friday a few times so we can tell you what message of importance the Finnish based OEM has for you.
source: Nokia