Founder of Geekbench benchmark test says iPhone leaves Android in the dust
99+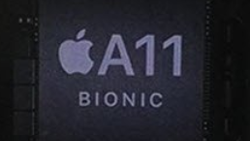 Over the last few years, Apple has created a performance gap between the iPhone and Android powered handsets, by creating powerful chipsets that it has employed on its iconic smartphones. With the release this year of the
Apple iPhone 8
and
Apple iPhone 8 Plus
(and the
Apple iPhone X
later this year), the company is deploying the A11 Bionic chipset, a name that calls to mind speed.
John Poole, the founder of Primate Labs, the company that created the Geekbench benchmark test, points out that the new iPhone models are scoring more than 50% higher on Geekbench when compared to flagship type Android phones. As far as Poole is concerned, the big question is why are seeing this hike in performance for Apple only?
"The thing that I don't fully understand is why performance has seemed to stagnate on the Android side. Where you don't see these big leaps forward. I don't understand what's happening there. At this point, you've got desktop-class performance in a handset. There's no way of looking at it any other way. I wouldn't have thought to use my first-generation iPhone to edit video. I would've thought you were crazy."-John Poole, founder, Primate Labs.
Apple's decision to design and develop its own chips gives it an edge when it comes to figuring out the direction it wants to go with the iPhone. While Samsung does have the Exynos chipsets and Huawei has its in-house Kirin line, Android phones can be produced by a number of different manufacturers, each sourcing their chipsets from a different chipmaker. That results in uneven performance and makes it harder for Android to catch up to Apple.
source:
BGR