Former co-CEO Jim Balsillie sells full 5.1% stake in BlackBerry
15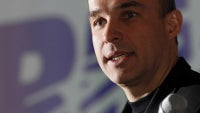 BlackBerry former co-CEO Jim Balsillie has sold his full 5.1% stake in the company
just after the launch of BlackBerry 10. Balsillie who shared the chief executive post at what was then Research In Motion with co-founder Mike Lazaridis was the third largest owner of company stock.
The
CEO duo between Lazaridis and Balsillie stepped down in January
amidst criticism of slow reforms at the company. Thorsten Heins took over the chief executive role and was the one to finally deliver the long anticipated BlackBerry 10 operating system on two devices, the full-touch Z10 and QWERTY-equipped Q10.
Now that Balsillie has dumped its stock, we can only assume this as a hint to a not so bright future ahead for BlackBerry. What do you make of it?
source:
Financial Post