Forget Glass; Google wants to plant Android right in your eye
36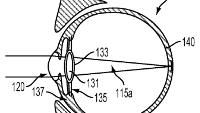 Sure, Google Glass was one way to view Android all of your waking hours. But wouldn't it be easier just to have Android placed directly in your eye instead of having to don glasses? Google apparently thinks so, and has filed a patent application with the USPTO for what is simply titled "Intra-ocular device." According to the patent application, a harvesting antenna will provide the power required to run the device, although what this is and how it works is not part of the filing.
Google doesn't mention Android by name in the patent, but what else would be running this invasive invention? Is this the final step in the evolution of the smartphone, the tablet and the wearable? Would people allow themselves to have this device inserted into their eyes? Obviously this is quite a number of years away from being available.
The patent was filed October 24th, 2014 in the name of Andrew Jason Conrad, the head of Life Sciences at Google. You can view some images from the application by clicking on the slideshow below.
source:
USPTO
via
AndroidAuthority
Recommended Stories