Flash storage to blame for sluggish smartphone performance says study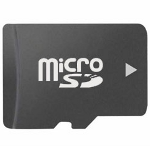 Thanks to the focus placed on specs like processor speed, RAM size, camera megapixels, the public has come to blame a smartphone's hardware for sluggish performance. According to a study done by the Georgia Institute of Technology, the type or brand of
microSD card installed on the phone
could be what is holding the unit back. Depending on the microSD card in your handset, performance of your phone could drop by 100% to 300%; in one case, the performance numbers dropped 2,000% as a result of a flash storage card.
The problem seems to be that the technology behind flash storage is
not keeping up
with the hardware of today's mobile devices, and can be traced back to the way that random I/O data is handled by the software. This is the theory espoused by Hyojun Kim, a doctoral student at the College of Computing at Georgia Tech.
A solution, according to Kim, would be to use phase-change random access memory (PRAM) which could be better at managing random data writing. The research shows that microSD cards can have better performance by reorganizing its file subsystem and keeping storage space neat and tidy. Ironically, benchmarking tests showed that some lower grade microSD cards performed better than some higher grade cards. As for naming names, Kim writes that Kingston's microSD card performs so badly that its results need to be removed from test data to get realistic averages. Transcend performs the best for random writes by as much as a factor of 100 compared to the competition.
Check the sourcelink for the dry as dust report. The bottom line is that the brand of microSD card you use in your device does make a difference in how fast it runs. Kim checked the launch time for eight popular apps including Angry Birds, Twitter and YouTube and found that Kingston's microSD cards offered up the
slowest times for most of the apps
. But there is hope based on the four suggestions listed in the report. First is that mobile devices need better storage media. Secondly, Firmware and device driver should be better at utilizing existing and upcoming storage devices. The mobile OS needs to be enhanced to prevent the bottlenecks from storage and offer new functionality. Finally, there should be changes made at the Application-level to use the supplied storage interface.
What is interesting is that some of the latest Android devices are not launching with a microSD slot which means that Kim might have to revisit this study using some of those devices. And for those who complain about how sluggish their Android model is, a
change in the microSD card brand you use
could make the difference.
source:
Usenix
via
Phandroid