Apple apologizes for group FaceTime bug; fix coming next week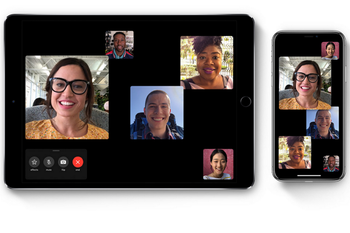 Earlier this week (which oddly enough was last month), we told you about
the shocking FaceTime bug
that allowed an iPhone user initiating a group video chat to hear audio from each individual being called, even before the call was accepted. In other words, the bug allowed iPhone users to secretly hear private conversations from other iPhone users that were not meant to be heard by others. Apple quickly disabled group FaceTime, promising that a software fix would be coming this week.
As
mentioned this morning by CNBC
, Apple released a statement in which it apologized, and noted that the problem was taken care of on the company's servers. But before you can start a group FaceTime with all your Elvis impersonator friends, Apple will first disseminate a software update next week that will once again enable the feature on compatible iPhone models.
The statement also
credited 14-year old Grant Thompson and his mother Michele for discovering the issue
and reporting it to them. Just a couple of days ago,
we relayed the whole story to you
. At the time, Ms. Thompson wasn't sure whether Apple had first heard about the bug from them.
"We have fixed the Group FaceTime security bug on Apple's servers and we will issue a software update to re-enable the feature for users next week. We thank the Thompson family for reporting the bug. We sincerely apologize to our customers who were affected and all who were concerned about this security issue. We appreciate everyone's patience as we complete this process."

"We want to assure our customers that as soon as our engineering team became aware of the details necessary to reproduce the bug, they quickly disabled Group FaceTime and began work on the fix. We are committed to improving the process by which we receive and escalate these reports, in order to get them to the right people as fast as possible. We take the security of our products extremely seriously and we are committed to continuing to earn the trust Apple customers place in us."-Apple