Fix enroute for EVO 4G screen sensitivity concern, problem with glass separation is minor
1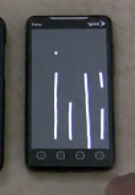 The HTC EVO 4G is one of those sensitive handsets. No, it won't cry during Love Story and doesn't watch Oprah. But the phone does have an issue with its massive 4.3 inch display as we
reported
. The problem, for those who missed it the first time, is that if the device is not grounded (being held in your hand is one way to ground the phone), the display will not completely register your touch and apparently this problem gets worse in hot, dry climates. While the manufacturer hasn't come clean yet, a tipster for Engadget says that the Taiwanese based firm will be issuing a patch that it will soon roll out to owners of the nation's first 4G enabled handset.
As for the
glass separation issue
, the same source says that HTC is calling the problem "minor" and outside of a little "give" when you touch the screen, there should be nothing serious that will happen to your phone. The manufacturer says it will keep an eye on the situation, but states that future units should benefit from some assembly changes it has made. What if your phone already has the separation problem? Why tempt fate. Return it and ask for a new unit-preferably one that was made with the previously mentioned "assembly changes".
HTC EVO 4G Specifications
|
Review
source:
EngadgetMobile