First Nexus 4 orders now arriving in the EU
11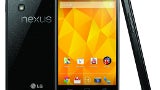 OK, the
Nexus 4 launch was a small fail
for Google's online store, but how can you blame them, when they're offering such a wonderful handset at such an unbelievable price? If there was one thing that was bound to happen during the
Nexus 4
's launch day, it was some kind of an issue with the operation of the store.
Anyways, reports are starting to appear from EU countries where the Play Store is accessible that some of those lucky fellows who have actually managed to place an order are now receiving their much-anticipated new phone. To them, we say congratulations - you'll now have the pleasure of using one of the very best Android handsets of the year!
To all the others who couldn't check out successfully, well, who said life is fair? But don't worry guys, at least Google has confirmed that
more Nexus 4 stock will be added soon
("in the coming weeks"), and then you'll once again be able to go out against the crowd of geeks, who, just like you, want to get their hands on the hot smartphone.
source:
AndroidCentral