Google: Nexus 4 will be available again "in the coming weeks"
11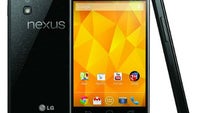 As planned, the highly anticipated
LG Nexus 4
smartphone landed on the Google Play store yesterday, but the ordering process was a pretty bumpy ride for everyone who tried to purchase one,
us included
. The overwhelming demand easily crashed Google's servers to the frustration of a great fraction of buyers who were unable to finalize their orders. Currently, the
smartphone is officially sold out,
and the
Google Nexus 10
tablet is in low supply as well.
But wait, Google will soon put another batch up for purchase, right? Well, it surely will, but that might actually take a while. Here is what Google had to say on the Nexus page over at Google+:
There's been so much interest for the Nexus lineup that we've sold out of some of our initial stock in a few countries! We are working hard to add more Nexus devices to Google Play in the coming weeks to keep up with the high demand.
In this case,
"in the coming weeks"
doesn't sound like too encouraging of a statement. And something tells us that once the next batch of Nexus 4 smartphones becomes available, ordering one might once again be a difficult task. For the time being, one might consider
getting the hot handset from one of the select T-Mobile stores
.