First LG G3 camera samples get compared with the Galaxy S5, One M8, Note 3, and iPhone 5s
36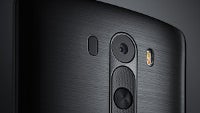 By now, it should be obvious to those who were hanging around during LG's G3 announcement event that the company's new flagship is one sleek device, complete with bleeding edge hardware. As soon as the curtains once again removed the G3 from sight (at least for the time being), however, chatter ensued. Most of it positive, of course, but some if had an unmistakable, concerned tone.
Indeed, some of you were quick to notice that the LG G3's camera unit is not that much different than the one in the G2. Sure, it has an even better image stabilization implementation in OIS+, and that laser beam does seem to help the phone focus super-quick, but the sensor itself appears to very similar to the one found on its predecessor. Naturally, this had some concerned that while the G3's snapper may be in a overall better package, image quality might not differ much.
That's fair, and we initially shared your concern. We say initially, since the first few snaps we took with the LG G3 are actually pretty awesome, even when compared against the handset's main rivals in the
Samsung Galaxy S5
, the HTC One M8, the
Samsung Galaxy Note 3
, and the
Apple iPhone 5s
. Indeed, it would appear that the OIS module in place is definitely pulling its weight, and the shooter, in turn, produces some really, really sharp snaps devoid of blur. Moreover, colors are looking great, and noise levels are perfect. We won't go farther than this initial, quick assessment though, and instead wait for the real deal to arrive for review before we make a judgment. In the meantime, treat yourself to them samples below!