Final T-Mobile G2 specs are revealed by HTC on its web site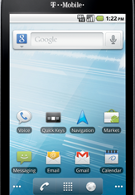 T-Mobile has already introduced the G2 as we have
told you
. As the manufacturer of the first handset that is HSPA+ enabled, HTC has finally put the phone up on its site with a list of the final specs. First, we need to stop a controversy in its tracks. The G2 will have the 800MHz Qualcomm MSM7230 under the hood, not a 1GHz chip as wishful thinkers have been saying. But that should be enough firepower for most and Android 2.2 will be installed on the G2 right out of the box. With an 800MHz processor and a 3.7 inch WVGA display, the device meets Adobe's new requirements to run Flash Player 10.1, as we
reported
. So right away there is good new for potential G2 buyers.
The handset will have 4GB ROM and 512MB RAM with a 5MP camera on the back with AF and flash. Besides the rest of the usual suspects (Wi-Fi, Bluetooth, GPS), the phone will be powered by a 1300mAh battery. If you want to sign up to receive info on the device by e-mail, click this
link
.
A leaked document we
reported
on earlier points to a $199 contract price for the handset, with a signed 2-year contract. This is the price that most high end phones have been going for. The same report gives a $499 price for the G2 off contract. And while no T-Mobile launch date has been announced,
Best Buy has already started taking pre-orders for the phone
with an eye on launching it on October 6th.
T-Mobile G2 Specifications
source:
HTC