Fashion model wears skirt made of Lumia 1520 phones, doesn't complain about app gap
35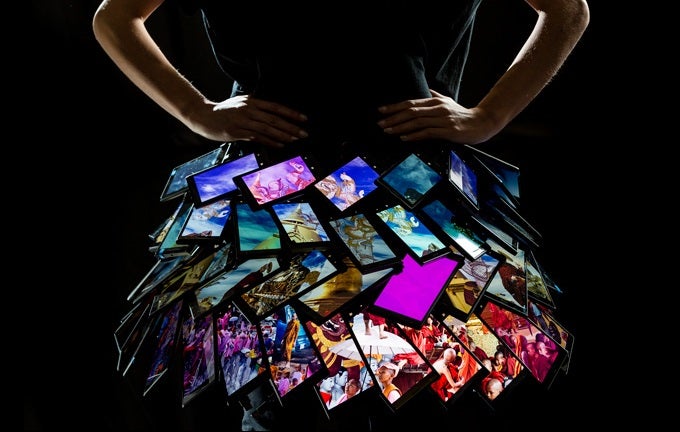 Nokia has partnered with creative label Fyodor Golan to deliver "the world's first interactive skirt". The garment is made up of 35 Lumia 1520 smartphones. As the skirt moves, images on their screens change color, creating a synchronized shimmering effect. The designer accomplishment will star at London Fashion Week 2014, which is also an opportunity for Nokia to equip the fashion royalty with some Lumia phones.
The technology of the skirt is rather intriguing. The Lumia phones are aided by GPS positioning to align the wearer's movements with the skirt's sparkle. As if this isn't impressive enough, a camera in the model's cap allows for more effects. Thanks to it, the mosaic-style imagery will change between picks from FG's latest collection and a "visual representation" of the model's surroundings.
The people at UK's kin Design, who also worked with Fyodor Golan, described the skirt as: "a wearable and experimental piece of technology". kin employed a combination of sketched drawings, 3D-printing, and programming languages to "build" it.
We'd happily give you more technical details, but you won't read half of them, anyway. We know your eyes are glued to Nokia's fashion statement.
If you are curious, though, follow the source link.
source:
Nokia