Facebook takes on YouTube, rolls out Live video tab, reactions and comments
5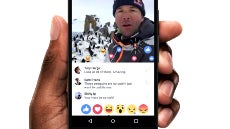 If you think embedded video postings are becoming a major annoyance in your Facebook feed, just wait to see what plans are in store for the social platform's Live streaming video service. As the company's Product Manager puts it: "
Going live on Facebook feels special because you are going live with the people you care about
."
It doesn't say if those people care about your videos specifically, yet the company today has opened the proverbial video floodgates for its streaming service, stuffing it in Facebook Groups and Events, and dedicating a special video tab in the mobile app for searchable vids made with Live.
The social network didn't stop here, though, as it introduced "interactive features" like Live Reactions, Replay Comments, and Live Filters for those streams out there, which sounds like a whole lot of annoyance in the form of sad, angry or happy "reaction" bubbles constantly floating at the bottom of your video stream. Oh, dear. In addition, you can now extend an invitation to friends to watch with you right from the live video stream by tapping the invite icon, and sending them a push note.
The big news in all this is the Live video hub in the mobile app, though, which should arrive into your Android or iOS devices soon, and is heavily skewed towards Facebook's own video streaming service recordings. This could potentially eat away from YouTube's base, as, let's face it, most everyone has the Facebook app installed, and recording a video to share with friends, family or the world from there just became much easier.