Facebook cancels release of the HTC First in the UK... for now
4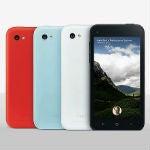 There has been a lot of chatter recently about the HTC First, better known as the Facebook Home phone. AT&T is the only carrier to offer the phone so far, and the rumors started to circulate that
the phone was on its way out
after AT&T dropped the price from a reasonable $99 to the "please-please-please-buy-this" price of
99 cents
. Now, Facebook has cancelled the release of the First in the UK for now.
Of course, the
troubles of the sales
of the HTC First through AT&T are nowhere to be seen in the explanation of why the First is being canceled/delayed in the UK. Apparently, Facebook has cancelled all of the pre-orders for the HTC First, and the reasoning comes from EE, the UK carrier slated to get the device
this summer
along with Orange. EE says that the bad customer reviews of Facebook Home led to the decision:
Following customer feedback, Facebook has decided to focus on adding new customization features to Facebook Home over the coming months. While they are working to make a better Facebook Home experience, they have recommended holding off launching the HTC First in the UK.
We can't argue with that strategy. While
we found Facebook Home to be pretty sticky
(for the first week or so before the fact that we don't use Facebook all that much overpowered the value of the app), and the app got
fairly positive reviews
from the press, users have been overwhelmingly negative in their reviews. It's nice to know that Facebook does actually listen when users complain.